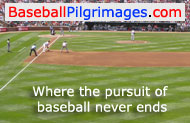 Former home of the Minnesota Twins
Metrodome Facts & Figures
Construction cost: $68 million
Architect: Skidmore, Owings & Merrill
Construction began on December 20, 1979.
The first Twins game was played on April 3, 1982.
Located on a 20 acre site in downtown Minneapolis.
Named after Hubert Humphrey, a Minnesota Senator and Vice President of the United States from 1965-69.
Covered by 10 acres of Teflon coated fiberglass that requires 250,000 cubic feet of air pressure per minute to keep the roof inflated. It's the only air-supported dome used in baseball.
Beginning with the 2004 season, the Metrodome playing field was re-surfaced with AstroPlay, a new artificial turf that resembles natural grass.
Replaced Metropolitan Stadium (1961-1981), which was located in the suburb of Bloomington, 15 miles south of the Metrodome. Metropolitan Stadium was demolished in 1985.
The Twins played their final game in the Metrodome on October 11, 2009. Since 2010, the team has played at Target Field.