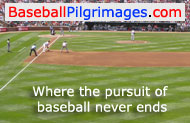 A very rare glimpse into the national pastime during its golden era, this DVD brings to life most of the ballparks and many of the great ballplayers of the American League, and it does so in color!

Filmed by three-time AL All-Star and six-time league stolen base champion George Case during his playing days, the digitally remastered 8mm color film dates as far back as opening day in 1939 and spans to 1946. Case provided the narration for his silent footage in the late 1980s and the commentary is as interesting as it is insightful.

For almost a half-hour, Case provides the soundtrack to a fascinating behind the scenes look at baseball from a player's perspective, with the backdrop often a classic ballpark. Many Hall of Famers, Joe DiMaggio and Ted Williams among them, are shown swinging away in batting practice (since Case was busy playing during the game there is no game footage) and plenty of pre-game promotions and ceremonies are included, such as Presidents Roosevelt and Truman throwing out first pitches at Griffith Stadium.

"Around the League" shows what life was like in the major leagues during a critical time in our nation's history. From spring training to the big league clubhouse and the bus and train travel in between, it's a 37-minute DVD that is truly one of a kind.

Buy with major credit cards at CCNow



Shipping: USPS First-Class Mail

DVD Info


37 minutes
Color footage shot in 1939-1946
Narrated by George Case
Released on DVD in 2010

---

What You'll See in the DVD

"Around the League 1939-1946" is a window into the world of major league baseball as it was experienced by the players during the time period in which it was filmed. All of the footage was shot in 8 mm color film with a motion-picture camera by George Case, Jr., who played in the majors from 1937 to 1947, all but one of them with the Washington Senators. Prior to his death in 1989, Case narrated his footage and his insightful anecdotes further bring to life what were originally silent home movies. This is a list of what, and who, you'll see in the 37-minute DVD:

Classic Ballparks


Sample Screen Shots
Since George Case was a Senator for 1,108 of his 1,226 major league games played it's no surprise that many Washington Senators are featured in his films. Much of the 1939 team is included, such as the players pictured above (Ossie Bluege) and below (Ken Chase).

Briggs (Tiger) Stadium, Cleveland Stadium, Comiskey Park, Fenway Park, Griffith Stadium, Sportsman's Park, Yankee Stadium

Hall of Fame Players


Luke Appling, Joe Cronin, Bill Dickey, Joe DiMaggio, Bobby Doerr, Rick Ferrell, Jimmie Foxx, Charlie Gehringer, Lefty Gomez, Joe Gordon, Hank Greenberg, Lefty Grove, Hal Newhouser, Ted Williams

Dignitaries and Other Notables at the Ballpark


President Franklin D. Roosevelt, shown entering the field in his presidential limo for opening day games in 1939 and 1940.
Boxers Joe Louis and Buddy Baer, shown weighing in for their 1941 heavyweight championship fight, which took place at Griffith Stadium. The weigh-in occurred in the Senators locker room.
President Harry S. Truman, shown throwing out the ceremonial first pitch on opening day in 1945.
Olympic gold medalist Jesse Owens, shown racing George Case in a 100-yard dash that Bill Veeck staged at Cleveland Stadium in 1946.

Spring Training


Washington Senators camp at Tinker Field in Orlando
Departing the bus in Daytona Beach prior to a game against the Brooklyn Dodgers
Bonus footage of the Chunichi Dragons spring training camp in the mid-1960s that was taken when Case was a Triple-A manager and spent two weeks in Japan as an American baseball ambassador

Other


Jackie Hayes is seen wearing the "headgear" he donned in 1940, when he became (by most accounts) the first major league player to wear any type of batting helmet in a game.
Pre-game promotions, including contests involving players in which the winner would receive a $100 war bond
Off the field footage, such as team hotels, an off-day golf outing and driving on the beach in Daytona

The DVD concludes in 1989 at RFK Stadium, where ceremonies were held to induct George Case into the Washington Hall of Stars. Remarks by legendary sportswriter Shirley Povich precede the unveiling of Case's name plaque on the stadium's mezzanine level at halftime of a Redskins game. A closing statement is then made from the field by George Case, III, who originally produced his Dad's films in VHS format in 1989.