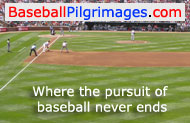 Baseball Pilgrimages
Ballpark Info
Directions
Phone: 863-834-6035
Outfield Dimensions
LF: 325' CF: 405' RF: 330'
Ballpark Attendance
Year
Total
2002
21,503
* Regular season attendance for the Lakeland Tigers at Henley Field

Baseball Pilgrimages
Where the pursuit of baseball never ends.
[Site Map]
Henley Field


1125 N Florida Avenue
Lakeland, FL 33805

Opened:


1925

Capacity:


1,000

Elevation:


216'

---

Send this page to a friend
Questions or comments


A huge field with an old and quite quaint structure fronting it describes the product of its times that is Henley Field, which is best known as being the original, and then longtime, home of spring training for the Detroit Tigers in Lakeland.

Opened during the Roaring Twenties, the ballpark has never been big, although the field itself has loads of foul territory, and the tight, or at least limited, confines promote fan friendliness, as in you can make some new friends since interaction with others is a hallmark of a place in which attendees don't have much room to roam.

Four figure crowds really aren't possible as a result, as Lakeland's little park packed to the gills equals a maximum crowd of just an even thousand. And the grandstand here can't even hold that many people, as there's a spillover area on its third base side, where a small fan plaza is between the concessions building and dugout.

Just like in the old days, the small grandstand is covered and contains only bleachers for seating while netting isn't used for the backstop screen: chain-link fencing is instead. That's not ideal for seeing through from the stands that span a dozen rows high and are entered via a single portal that is flanked on one side by a set-up normally found in a press box, which Henley Field is absent of (previous versions were destroyed by a hurricane and condemned). So the PA announcements, etc. emit from within the grandstand, which has metal bleachers with backs found underneath a wooden roof supported by steel beams (that do obstruct some views).

It's true that if it's creature comforts and amenities you seek, Henley Field is not the place for you. But if exchanging pleasantries with others while watching America's pastime in an authentic atmosphere is what you desire, then this venue is a proverbial home run.

Harkening back to the era of mere functionality sets Henley Field apart from just about all ballparks used by minor league teams in the modern era, although Historic Henley Field, as it is referred to on its scoreboard, is generally just a long ago former pro park that has enjoyed a couple of 21st century cameo seasons (2002 and 2016) of use thanks to renovations taking place at its 1966-opened replacement, Joker Marchant Stadium. That's Lakeland's bells and whistles ballpark nowadays.

Fortunately, Henley Field is still very much open for baseball business even when the city's minor league team doesn't need it on a back-up basis, as there will be plenty of game days well into the foreseeable future involving players that aren't paid to play. The local high school and college teams call Henley home and ensure that its grounds can be visited by fans who want to see what a ballpark used to look like. And this Golden Era gem certainly fits that criteria.
Location

Found alongside North Florida Avenue, a normally busy four-lane divided highway, Henley Field is also side by side with Thomas W. Bryant Stadium, the large football stadium used by Lakeland High School, whose teams go by Dreadnaughts, hence the odd name that's seen across the expansive backside of the old stadium's (est. 1941) grandstand. So the ballpark and stadium are both close to I-4, as the Interstate is not much more than a mile away. Also nearby is the city's most notable athletic venue, the Tigers' Joker Marchant Stadium, which is within a 1½ mile drive of Henley Field.
Parking

An extremely limited amount of paved parking is available on site, in close proximity to the ticket office behind home plate. A large grass field is across the street from the ballpark and that's where most people park.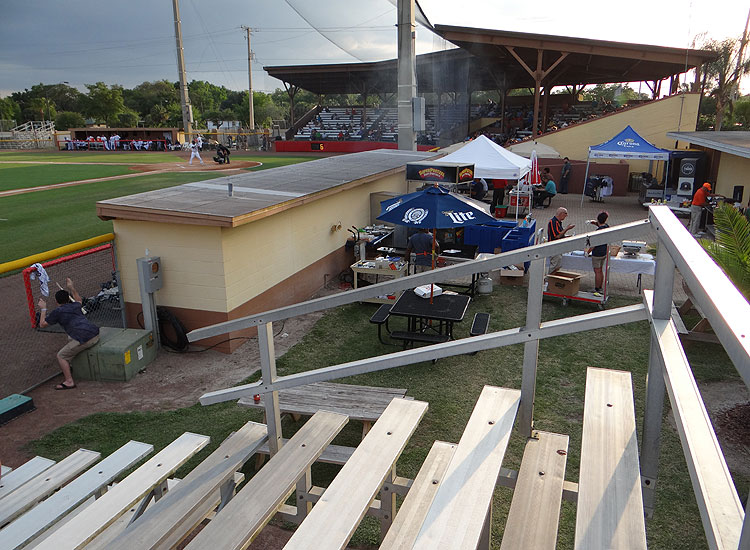 Henley Field Facts, Figures & Firsts
Construction cost: $28,950
Architects: W.B. and W.D. Talley
Built by W.D. Gerbrich Company
Occupies 5.15 acres that were part of a 70-acre purchase in 1924, when Lakeland acquired the land from Dr. Pike Adair.
The property on which the ballpark presently sits already had a field on which baseball games were played prior to the construction of the grandstand in 1925.
Owned by Florida Southern College. The college bought the ballpark from the City of Lakeland in 2015 for $1 million.
Added to the National Register of Historic Places on May 23, 1997 and is listed as Henley Field Ball Park in the registry.
Originally called Athletic Field.
Named for Clare Henley, a prominent Lakeland pharmacist who led the effort to have professional baseball played in the city. Henley was born in Lakeland in 1888 and the ballpark was renamed in his honor on March 4, 1942 (he died in 1955). An old plaque bearing Henley's bust is on the wall of the entryway. The bronze plaque dates to August 15, 1952 and is engraved with words of gratitude to Henley "from the baseball fans of Lakeland."
Capacity of the grandstand is 800. There's room for another 200 people in bleachers that are beyond the grandstand and dugouts.
The dugouts in use today date to 1993. Prior to then the dugouts were in front of the grandstand, where they were indeed dug into the ground. Now they're freestanding past the grandstand.
Metal bleachers replaced wooden benches in the grandstand as part of a $250,000 renovation project that was completed in 2002.
A concrete wall that was built in 1927 spans the outfield, where it served as the ballpark's original fence. A wind-screened chain-link fence has since been placed in front of the old wall, which still serves as the park's outer perimeter and has distance markers on it that are visible in some places (such as 340 in LF). The wall itself is primarily comprised of ten foot sections and is eight feet tall. Along with the grandstand and playing field, the concrete wall was a primary factor in Henley Field being designated as an historic landmark.
First game: March 17, 1925; the Indianapolis Indians beat the Cleveland Indians, 11-2, in an exhibition that was attended by baseball's first commissioner, Kenesaw Mountain Landis. Despite the presence of such an important dignitary, a local politician was given the honor of throwing out the ceremonial first pitch. As for the first real pitch, it was thrown by Cleveland's Dutch Levsen to Lloyd Christenbury of Indianapolis. Later in the inaugural game, Hank Schreiber of Indy hit the ballpark's first home run.
Used by the Cleveland Indians for spring training games from 1925-1927 and then hosted Detroit Tigers spring training games from 1934-1942 and 1946-1965.
The ballpark's record-high crowd is 4,022. That was the turnout for a Yankees-Tigers spring training match-up on April 4, 1962. New York won the game 2-1 thanks to solo home runs hit by Elston Howard and Tom Tresh.
During the Tigers' 29 years of holding spring training at Henley Field their best single season average crowd was 2,168 in 1952, while 24,508 total fans in 1963 was the most the Tigers ever drew to the ballpark for an individual spring training season.
Minor league tenants: Lakeland Highlanders (1925-1926), Lakeland Pilots (1946-1952, 1954-1955), Lakeland Indians (1960), Lakeland Giants (1962), Lakeland Tigers (1963-1964, 2002), Lakeland Flying Tigers (2016)
Serves as the home field for the Lakeland Dreadnaughts (high school) and Florida Southern Moccasins, an NCAA Division II college baseball program that has won 9 national championships, with the first title won coming in 1971.