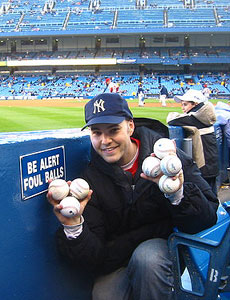 Want a baseball?
Want a thousand baseballs?
Then ask yourself the following question next time you're at a game--or better yet, before you even leave for the game:
"How can I give myself an advantage over other fans?"
This will cover everything you do.
Most fans don't show up early for batting practice.
Most fans don't bring their baseball gloves.
Most fans can't identify most players.
Most fans can't ask for a ball in Spanish and Japanese and Korean (or in Gaelic, Turkish, and Swahili for that matter.)
Most fans don't reposition themselves for right- and left-handed hitters.
Most fans sit in the middle of long rows where they can't get up and run for a ball.
Most fans are not athletic enough to run for a ball--or even to catch one that comes their way.
Most fans don't have a contraption that they can lower over a wall and use to pick up a ball that's out of reach.
Most fans don't consider whether or not a ball's path will be obstructed by the bottoms of seat backs as it trickles down the concrete steps of an empty section.
Most fans won't sit in the rain.
Most fans don't shout loud enough for the players to hear them from 150 feet away.
Most fans eat and drink during the game.
Most fans cram into the first row.
Most fans forget to say please.
Most fans aren't willing to dive headfirst over two rows of seats.
Most fans don't want it bad enough.
Most fans who get balls are lucky.

Don't be like most fans.
Put some thought into it.
Find ways to stand out.
You'll see that there's really not that much luck involved.
---
Zack Hample is known as The Baseball Collector for his ability to snag balls in batting practice and during the game. He's collected over 2,700 balls from 40 different Major League ballparks and chronicles his stories and strategies at his blog.