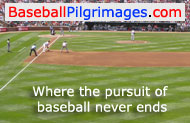 Baseball Pilgrimages
Ballpark Info
Directions
Seating Diagram
Tickets
Phone: 618-998-8499


Field Facts
Outfield Dimensions


LF: 320' CF: 400' RF: 335'

Playing Surface
Sportexe turf

Home Dugout
1st Base


Miners Info
Level: Independent
League: Frontier
MLB Affiliate: none
2016 Miners Schedule
Radio: WHET 97.7 FM
Ballpark Attendance
Year
Total
Average
2015
2014
2013
2012
2011
2010
2009
2008
2007
151,503
147,287
126,084
0
0
0
0
0
0
2,859
2,779
2,573
0
0
0
0
0
0
* Attendance figures listed are the regular season totals drawn by the Southern Illinois Miners at Rent One Park
Travel Info
Nearest Pro Ballparks:
Sioux Falls Stadium in Sioux Falls, SD (96.8 miles)

Werner Park in Papillion, NE (107.5 miles)

Haymarket Park in Lincoln, NE (148 miles)

Principal Park in Des Moines (194.5 miles)


Ballpark Directory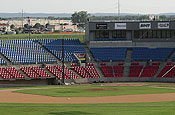 See all the ballparks, like Sioux City's Lewis & Clark Park, in which professional baseball is played. Our Pro Baseball Ballpark List includes every current one.
---

Baseball Pilgrimages
Where the pursuit of baseball never ends.
[Site Map]
Rent One Park


1000 Miners Drive
Marion, IL 62959

Opened:


2007

Capacity:


4,500

Elevation:


472'

---

Send this page to a friend
Questions or comments

A roomy little ballpark in a small southern Illinois city, Rent One Park is pretty typical of the modern era of minor league ballparks, although the 21st century-built home of the Miners is more basic than most despite having the necessary accoutrements of the times. So suites, berm seating, tiers of picnic tables, a kids' play area and an air-conditioned walk-in team store can all be found on the grounds of the ballpark in Marion, where strip mining for coal was once the economic pastime. Hence the home team's name, and in a nice nod to the area's mining history numerous black and white photos of miners and their places of work line the back walls of the ballpark's open and spacious concourse, which overlooks a fully turfed field that became the Frontier League's signature playing surface in part due to the success of the fake field's installation here. While that's an unusual look the stadium that surrounds the field has a pretty standard appearance, with its biggest departure from the norm being the field-level grass behind left field, where fans can stand directly behind the see-through chain-link fence. This isn't a ballpark, however, that a fan can completely walk around. Right field is off-limits because both teams' clubhouses and bullpens are located there. Another restricted area is the park's upper level, which was mainly built as a suite structure (that also has a group area and press box). Of course, there's nothing novel about that kind of a second story design and, likewise, there's nothing out of the ordinary to experience at Rent One Park, as it's just another nice, yet fairly forgettable, place to see a game.
Location

Lewis & Clark Park is found roughly five miles south of downtown Sioux City, which is Iowa's fourth most populated city. The ballpark overlooks Highway 75, a multi-lane Interstate look-alike that is elevated by a hill so that the cars and semis traveling on it dominate the backdrop. Those driving west by the ballpark on what's actually a combination of US highways 20 and 75 will cross over the Missouri River, and thus into Nebraska, in less than a mile, as the river serves as the border between the two Midwestern states. Between the Missouri River and Lewis & Clark Park is I-29 and traveling north on the Interstate will take you right into the heart of Sioux City, which is the proverbial hop, skip, and a jump away from the South Dakota border. The home of the Explorers is just 10 miles from the Iowa-South Dakota line, which is the Big Sioux River.

Notable something-fun-to-do places within walking distance of Lewis & Clark Park are an indoor ice skating rink (IBP Ice Center) and an entertainment complex (Rush Werks) that includes a bowling alley. Both have addresses of Stadium Drive, which intersects with Line Drive in front of Lewis & Clark Park. There's a small industrial park along Line Drive, which is the quarter-mile long access road to the stadium from Hwy 75. A stretch of road about the same length that's almost directly behind left and center field is home to the Greater Siouxland Soap Box Derby and their sloped track is where kids have raced their creations since it was built in 2003.
Parking

There's plenty of spaces in which to park in front of the stadium, as a large paved lot extends to each foul pole (and a little beyond). There is a charge for parking but it's a small fee ($2 in 2015).



Lewis & Clark Park Facts, Figures & Firsts
Construction cost: $3.5 million
Financing: Revenue bonds were used after their issuance was approved in a 4-1 vote by the city council.
Built on land that had previously been a cornfield.
Owned by the City of Sioux City.
Named for the famed exploration duo of Meriwether Lewis and William Clark, who led the first American expedition to the western frontier, during which Charles Floyd became the sole member in the Lewis and Clark Expedition party to die in present-day Sioux City on August 20, 1804.
Has 4 suites. There are two on each side of the press box.
The Explorers' (home) dugout is on the third base side of the stadium.
Was host to the NAIA World Series from 1995-1997. The winners of the small college baseball championships played here were Bellevue (1995), Lewis-Clark State (1996) and Brewton-Parker (1997).
First game: June 22, 1993; the Sioux City Explorers hosted the Rochester Aces. Rochester's Kash Beauchamp hit the first home run in ballpark history.
Prior to its construction the last time pro baseball had been played in Sioux City was in 1960, when the Sioux City Soos played at Soos Park, which was converted into a racetrack (for cars) in 1964. The site of the old ballpark, which was built in about a month in 1947, was 5 miles north of Lewis & Clark Park. The address for Soos Park was 1420 Steuben Street.