At the time of this interview, Mike Melega has been with the Tulsa Drillers for 16 years, the last 3½ as the team's general manager. He answered these questions about his longtime workplace, Drillers Stadium, nine days after it hosted its last game. The Drillers are moving to ONEOK Field, their new $39.2 million downtown ballpark, in 2010.

This is a wide ranging question, but I'd like to know your thoughts about Drillers Stadium, its pros and cons, and your favorite memories that have occurred there.
Drillers Stadium has been a great venue for Minor League Baseball for many years and will be missed for sure. There is nothing like this ballpark when we have a full house or close to full house. The metal bleachers and close to the field feel create probably the loudest environment in the Texas League. We actually recorded the fans at our last home game so we can at times pump the old crowd noise at our new facility in 2010 and beyond. As far as the cons go, it is just an age issue. Drillers Stadium just got to the point where many of the modern day fan amenities and player facilities were simply absent. Our fans and players alike will see some major changes as we move to ONEOK Field in 2010. I believe all will be for the positive!

What are some of the unique aspects about Drillers Stadium that you will miss?
As I mentioned above, the crowd noise that can be created here will be missed the most. Also, as an older stadium, we were grandfathered in on several things. One of which is the proximity of home plate to the front row of seats behind the plate. It is amazingly close to the action. We will have to move a little further away from the plate for our new seating to meet standards.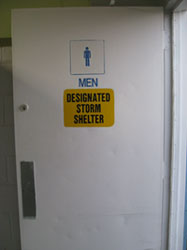 There's a sign on one of the men's bathrooms that says "Designated Storm Shelter." Has that always been there and has that always been the case since the stadium opened in 1981?
Yes it has. In Tulsa, the threat of tornadoes is always there during the peak season. In my 16 years, we have only had to move fans to the shelter areas in our ballpark one time when the city's sirens started to sound off.
BP Note: Actually, each bathroom at Drillers Stadium was an official storm shelter. The stadium has three men's and women's restrooms, so that's a half-dozen shelters total.
The stadium is located in the Tulsa Fairgrounds, which is about 5 miles from downtown. What impact, if any, do you think the location had on attendance?
The Fairgrounds is a very centrally located location for us and not difficult for fans in the surrounding suburbs to get to, so overall it has been a positive location. Conflicts with other events at the Fairgrounds have presented us with challenges over the years, including live horseracing from June to the beginning of August pretty much every year. I am hopeful that the move downtown will make us even more accessible to a wider radius of fans and will become a bigger strength for the organization.
When did the push for the new ballpark begin? And do you think a new ballpark was necessary for the Drillers to stay in Tulsa?
The push really started in earnest a little more than two and a half years ago. Simply to keep up with modern day standards, I do think it was necessary. Drillers Stadium is still in good enough shape to have continued to play for a few more years, but it was clearly not the long term home for Drillers baseball for the next 20-30 years. That said, when the opportunity presented itself, we felt it necessary to pursue it. We never considered leaving the Tulsa area. Some Tulsa suburbs did show interest in building a stadium for us as the process moved along, but we never considered a move out of state. No way! We will always be Tulsa's team.
Publicly funded ballparks always have their share of opponents. What is your response to those who say that Drillers Stadium does not need to be replaced?
I certainly respect their opinion. Everyone has their own set of priorities which is completely reasonable. While Drillers Stadium may not have needed to be replaced in one year or two or even three, I think most would agree that it would not be sufficient to be our home much past that time frame. A new stadium was inevitably going to be necessary and now turned out to be the time. The previous home of professional baseball in Tulsa, Oiler Park, was allowed to get far too old before anything was done about it and unfortunately that resulted in a partial stadium collapse with several fans getting injured. Eventually that led to the team leaving the city of Tulsa for over a year before pro ball returned to Tulsa in 1977 with the Drillers. I am confident that when fans, whether they were supportive or not, come to the ONEOK Field they will be surprised at how much nicer it is for their entire family.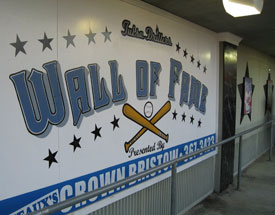 The Wall of Fame at Drillers Stadium honored 10 "stars" associated with the Drillers - 6 players, 2 owners, a manager and sportswriter.

Will the Wall of Fame be replicated at the new ballpark?
Plans for the Wall of Fame have not been finalized yet, but we will plan on honoring our franchise greats at ONEOK Field in some fashion.

Are there any other traditions specific to Drillers Stadium that will be carried over to ONEOK Field?
We will continue to play Eric Clapton's version of "Tulsa Time" at the end of all of our ballgames as fans leave the stadium.

Will one game of the Bedlam Series still be held in Tulsa?
Yes. We hope to get in the rotation for two games at some point.

BP Note: The Bedlam Series is a three-game set played between the University of Oklahoma and Oklahoma State. Two games are played in Oklahoma City's AT&T Bricktown Ballpark. Drillers Stadium hosted the other, which was attended by 10,757 fans in 2009.

With a capacity of 10,997, Drillers Stadium was the biggest of the 30 ballparks used for Double-A baseball, yet the new ballpark will hold just 6,200. How did the team and city arrive at that total?
Well that number is not that accurate. We will actually have closer to 5,700 fixed seats in the lower bowl plus 500 on the suite level and 450 or so in the Terrace Seating over the left field wall. That will give us close to 6,650 fixed seats plus group areas, lawn seating and standing room. We figure that for events like Bedlam we will be able to push 9,000 and for Drillers games we will end up with a capacity of somewhere in the neighborhood of 7,500 – 8,000. As has been the trend, bigger is not always better in terms of number of seats. We wanted to create an intimate atmosphere for our fans and lowering the seats count we felt was important in accomplishing this. If we can average around 6,000 per game in a venue with 6,650 seats, we feel the energy in the building will be greatly enhanced and that fans will enjoy the experience even more.

BP Note: I saw published reports of a 6,200 capacity for ONEOK Field, hence the question. And I realize that the Baseball Grounds of Jacksonville has a capacity of 11,000, but lawn seating counts for a sizeable chunk of it. No stadium in Double-A had more seats than Drillers Stadium.

Does having a new ballpark mean there will be more possibilities for non-baseball events, or does the reduced capacity make it a less attractive venue for concerts, etc. than Drillers Stadium was?
Yes, it will definitely be more conducive for non-baseball events. The new ballpark will be much more concert friendly in terms of field access, which will be a welcomed upgrade. With a center field stage set-up, I am told that you can get 8-9,000 fans on the field. Add that to our 6,500 plus seats and we could be in the 14,000 – 15,000 range for a concert capacity. In 29 years of Drillers Stadium, only once did we have more than that many fans for a concert. It was when we held 5 consecutive nights of Garth Brooks concerts in 1997. For that reason, I don't think it will be an issue. We will almost certainly hold more concerts at ONEOK Field than we currently do at Drillers Stadium.

Does Drillers Stadium have a future in the post-Drillers era or will it be destroyed? What would you personally like to happen to the stadium?
That is probably the most popular question that our front office has been asked over the last few months. The County has just released an online survey for Tulsans to voice their opinion and as far as I know the decision has not been made. I would think that any use of the stadium site that would help increase visitors to the city and enhance the Expo Square's ability to attract events to the Fairgrounds would be great. There has been some talk of a hotel going on this site. That seems to make a lot of sense for midtown.



---
For more insight into the Drillers Stadium experience, check out Benjamin Hill's interview with Mike Melega from 2008 at Minor League Baseball's Web site.