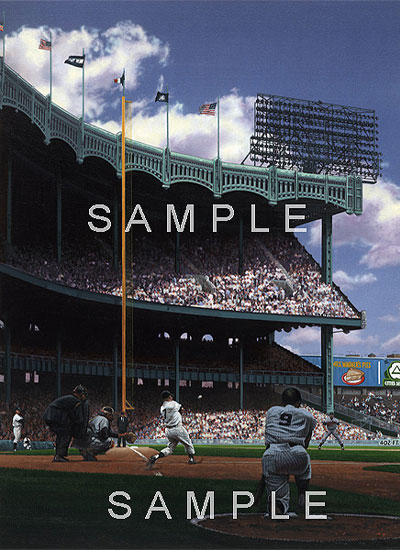 Mantle and Maris Lithograph

Limited Edition Artwork by Bill Purdom
Itís a beautiful day in the Bronx as a huge crowd takes in the June 30, 1960 matinee between the New York Yankees and Kansas City A's.

The Bronx Bombers would live up to their name on this day as they hit five home runs while cruising to a 10-3 victory at Yankee Stadium. Watching the action intently from the on-deck circle, in his first season in New York, is Roger Maris. One inning earlier, he belted his 25th dinger of the season. Now it was Mickey Mantleís turn to go deep, as he launches this pitch from Bob Trowbridge into the right field seats for his 18th round tripper of the year.

Mantle and Maris would stage an epic home run derby during the 1960 season, with the Mick leading the league with 40 homers to edge Maris by one. This turned out to be the appetizer of what would happen in 1961 when the M & M boys make a full throttle assault on Babe Ruthís storied record.
Size: 25¼" x 18½"

Only $165


Edition is sold out
799 Piece Limited Edition Print
Each print is hand signed and numbered by the artist.
About the Artist
Bill Purdom's art has been used by every major advertising agency in New York and he has painted 78 great moments in baseball history, past and present, including The M & M Boys. Lithographs of all of Purdom's ballpark paintings are a part of the permanent collection of the National Baseball Hall of Fame.