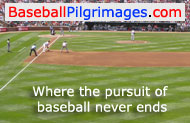 Baseball Pilgrimages
Stadium Info
Directions
Seating Diagram
Tickets
Phone: 276-206-9946


Field Facts
Outfield Dimensions


LF: 330' CF: 400' RF: 310'

Playing Surface
Bermuda grass

Home Dugout
1st Base


Team Info
Level: Rookie
League: Appalachian
Affiliate: Pittsburgh Pirates
2017 Schedule
Stadium Attendance
Year
Total
Average
2016
2015
2014
2013
2012
2011
2010
2009
2008
2007
2006
2005
2004
2003
16,441
17,849
25,743
20,309
23,387
22,433
22,019
19,390
21,696
20,768
20,012
20,868
21,120
19,770
530
637
858
700
835
701
667
718
723
692
667
632
704
732
* Attendance figures listed are the regular season totals drawn by Bristol at DeVault Memorial Stadium

---

Baseball Pilgrimages
Where the pursuit of baseball never ends.
[Site Map]
DeVault Memorial Stadium


1501 Euclid Avenue
Bristol, VA 24201

Opened:


1969

Capacity:


2,000

Elevation:


1,684'

---

Send this page to a friend
Questions or comments

DeVault Memorial Stadium Facts & Figures
Was not built from scratch, as a pre-existing field was altered and improved so it could be the site for professional baseball. Often generically referred to then by its position in a sports complex, the "center diamond" within the Randolph Complex originally went by the name of Randolph Field. While that name was later changed, the complex name has remained the same.
Officially called Boyce Cox Field at DeVault Memorial Stadium. The playing field portion of the name honors Boyce Cox, a Bristol native who played a pair of seasons for his hometown team in the 1940s then was named the Appalachian League Executive of the Year three times (1988, 1992 & 1998) during his front office tenure with the franchise, for which he was still serving as the general manager at the time of his death on March 17, 2007. The stadium's name memorializes Chauncey DeVault, an area native who was president of the Appalachian League from 1947-1979. DeVault died in Bristol on February 2, 1980.
Owned by the City of Bristol, Virginia.
Lease terms: The Pirates only have to pay $1 per year in rent
The non-profit volunteer organization Bristol Baseball, Inc. (BBI) maintains and operates the facility on behalf of the Bristol Pirates. The team itself is also operated by BBI, which is recognized by the IRS as a tax-exempt public charity. BBI has no paid full-time staff and describes its mission as "dedicated to keeping professional baseball alive in Bristol, Virginia-Tennessee."
Also serves as the home field for the Virginia High School Bearcats baseball team.
A marker commemorating an amazing achievement at Bristol's previous ballpark stands along the path that leads fans to the current ballpark. Unveiled in 1999, the "27 K's" plaque briefly tells the story of what a 19-year-old pitcher named Ron Necciai did on May 13, 1952 at Shaw Stadium: he struck out 27 batters in a nine-inning no-hit performance against the Welch Miners (although the city is misspelled as "Welsh" on the plaque). A crude bronzed baseball bearing Necciai's signature is the centerpiece of the rectangular plaque, which is affixed to a stone block display that's placed where the walkway splits into paths that lead to either the first or third base stands. As for where the 27 strikeout game happened, Shaw Stadium is but a distant memory too as it was demolished long ago.



Stadium Firsts
First game: June 25, 1969; the Bristol Tigers beat the Kingsport Royals, 10-9, with 1,580 as the paid attendance. The game was played in 3 hours and 20 minutes.
Ceremonial first pitch: Thrown by Alex Andersen to Jerry King. At the time, Andersen was the Mayor of Bristol, Virginia and King was the Mayor of Bristol, Tennessee.

Other official stadium firsts (all of which occurred on 6/25/69):
| | | | | | |
| --- | --- | --- | --- | --- | --- |
| Pitch | Batter | Home Run | Winning Pitcher | Losing Pitcher | Save |
| Lary Lohse | Vic Price | Don Hether | Lary Lohse | Tom Pratt | Mike Witkowski |