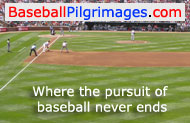 Baseball Pilgrimages
Ballpark Info
Directions
Seating Diagram
Tickets
Phone: 317-269-3545


Field Facts
Outfield Dimensions


LF: 320' CF: 402' RF: 320'

Playing Surface
Kentucky bluegrass

Home Dugout
3rd Base


Indians Info
Level: AAA
League: International
Affiliate: Pittsburgh Pirates
2017 Schedule
Ballpark Attendance
Year
Total
Average
2016
2015
2014
2013
2012
2011
2010
2009
2008
2007
2006
2005
2004
2003
2002
2001
2000
1999
1998
1997
1996
636,888
662,536
660,289
637,579
595,043
580,082
569,969
549,552
606,166
586,785
547,768
558,901
576,067
550,319
571,984
604,407
654,778
658,250
659,237
618,125
267,523
8,970
9,331
9,433
8,980
8,501
8,170
8,028
8,202
8,538
8,383
7,608
7,984
8,114
7,976
8,056
8,513
9,358
9,271
9,839
9,226
10,289
* Attendance figures listed are the regular season totals drawn by the Indians at Victory Field

---

Baseball Pilgrimages
Where the pursuit of baseball never ends.
[Site Map]
Victory Field


501 West Maryland Street
Indianapolis, IN 46225

Opened:


1996

Capacity:


14,230

Elevation:


705'

---

Send this page to a friend
Questions or comments

Victory Field Facts & Figures
Construction cost: $18 million
Financing: A split of private and public funds. Privately, corporations and some other benefactors collectively donated $4.5 million while the Indianapolis Indians contributed $5 million. The public's portion of payment came via the Capital Improvement Board, which is a Marion County entity authorized to finance facilities deemed to be of public benefit. During the Indians' original 20-year lease, the team paid $500,000 each year for rent, which fully paid off the debt from a bond issue that covered the publicly-backed portion of financing.
Architects: HOK Sport (primary) and Browning Day Mullins Dierdorf
General contractor: Hagerman Construction Co.
Groundbreaking date: December 16, 1994
Was built on 14 acres of land that's within White River State Park.
Owned by White River State Park, which officially took over ownership of the ballpark from the Capital Improvement Board in June 2015.
The name of the ballpark was announced in April 1996, and Victory Field was chosen as a result of fan sentiment and team history. The Indians' previous stadium was called Victory Field from 1942-1967 as a tribute to the USA's victory in World War II.
Has 28 suites and physical seating for 12,230 people. Lawn seating in the outfield has an approximate capacity of 2,000.
The playing field is 10 feet below street level.
Under the terms of a 20-year lease that began on April 1, 2016, the Indians do not have to pay rent to use Victory Field. The team is responsible for all operation costs of the ballpark through the lease's expiration date, which is March 31, 2036.
Hosted the Triple-A All-Star Game on July 11, 2001, when a crowd of 15,868 watched the Pacific Coast League beat the International League by a 9-5 score.
Replaced Bush Stadium as the home for professional baseball in Indianapolis. Built for $350,000 and known as Perry Stadium when it opened on September 5, 1931, the final game played there was on July 3, 1996, when the Nashville Sounds beat the Indians by a 14-8 score with 11,868 in attendance. Following the game, home plate at Bush Stadium was dug up and taken by a limousine to Victory Field. In 2013, an apartment complex opened on the site of the old stadium, of which much was preserved and incorporated into what's called Stadium Lofts.



Ballpark Firsts
First game: July 11, 1996; the Oklahoma City 89ers beat the Indianapolis Indians, 5-3, with 14,667 as the announced attendance. The game was played in 2 hours and 35 minutes after starting at 7:31 p.m.
Ceremonial first pitch: There were three, and they were thrown by Evan Bayh (Indiana Governor), Stephen Goldsmith (Indianapolis Mayor) and Patrick Early (Capital Improvement Board President)

Official ballpark firsts (all of which occurred on 7/11/96):
| | | | | | | |
| --- | --- | --- | --- | --- | --- | --- |
| Pitch | Batter | Hit (double) | Home Run | Winning Pitcher | Losing Pitcher | Save |
| Marcus Moore | Rikkert Faneyte | Rikkert Faneyte | Lee Stevens | Rick Helling | Marcus Moore | Danny Patterson |