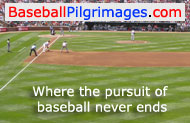 Baseball Pilgrimages
Ballpark Info
Directions
Seating Diagram
Tickets
Phone: 504-734-5155


Field Facts
Outfield Dimensions


LF: 325' CF: 400' RF: 325'

Playing Surface
Bermuda grass

Home Dugout
1st Base


Zephyrs Info
Level: AAA
League: Pacific Coast
Affiliate: Miami Marlins
2017 Zephyrs Schedule
Ballpark Attendance
Year
Total
Average
2016
2015
2014
2013
2012
2011
2010
2009
2008
2007
2006
2005
2004
2003
2002
2001
2000
1999
1998
1997
339,400
324,973
348,796
344,998
329,942
372,017
380,538
362,771
355,395
368,210
361,493
330,466
324,324
379,819
410,183
385,447
443,526
472,665
519,584
517,200
5,142
4,710
4,913
4,929
4,999
5,315
5,596
5,258
5,226
5,260
5,164
5,084
4,769
5,426

5,930
6,247

7,530
7,183
* Attendance figures listed are the regular season totals drawn by the New Orleans Zephyrs at Zephyr Field

---

Baseball Pilgrimages
Where the pursuit of baseball never ends.
[Site Map]
Shrine on Airline


6000 Airline Drive
Metairie, LA 70003

Opened:


1997

Capacity:


10,000

Elevation:


4'

---

Send this page to a friend
Questions or comments

Zephyr Field Facts & Figures
Construction cost: $20 million
Financing: Fully paid for by the State of Louisiana, as a broad $215 million bill passed by the state legislature in June 1993 that authorized spending on multiple athletic venues in New Orleans and its suburbs included funding for a baseball stadium in Metairie. A 4% sales tax on hotel-motel rooms in Orleans and Jefferson parishes is used to pay off the bond debt associated with the sports package bill.
Architect: Perez Ernst Farnet Architects
General contractor: J. Caldarera & Co.
Construction began on March 1, 1996. Ceremonial groundbreaking took place on November 30, 1995.
Was built on previously undeveloped land owned by Jefferson Parish that was referred to as the LaSalle Tract. Prior to becoming the location of the ballpark and its parking lot, which collectively encompass 65 acres, a hardwood forest occupied the site.
Owned by the State of Louisiana via its Louisiana Stadium and Exposition District (LSED) agency. Operated by SMG, which was previously known by the full name of Spectacor Management Group.
Did not have an official name when it opened. Zephyr Field was simply a common name used enough that it became the ballpark's moniker. Naming the ballpark in honor of a person or for a paying corporation were options discussed but the team name, which dates to the franchise's days in Denver, has never been supplanted in the ballpark's name.
Has 16 suites.
The Zephyrs' current lease at the ballpark runs through the 2020 season and was agreed to on October 21, 2015 as a five-year deal that superseded the team's previous lease, which was a seven-year pact that was signed following the 2009 season.
Hosted the Triple-A All-Star Game on July 14, 1999, when a crowd of 8,895 watched the Pacific Coast League beat the International League, 9-5 (box score).
Replaced Privateer Park as the home for the New Orleans Zephyrs. Now known as Maestri Field, that ballpark was used on a temporary basis by the Zephyrs for four seasons (1993-96) following the team's relocation from Denver and it's actually located in New Orleans on part of the University of New Orleans campus. The Zephyrs' park in Metairie is roughly 14 miles southwest of where the UNO Privateers still play.



Ballpark Firsts
First game: April 11, 1997; the New Orleans Zephyrs beat the Oklahoma City 89ers, 8-3, with 10,366 as the announced attendance. The game was played in 2 hours and 27 minutes.

Official ballpark firsts (all of which occurred on 4/11/97, unless noted):
| | | | | | | |
| --- | --- | --- | --- | --- | --- | --- |
| Pitch | Batter | Hit (single) | RBI | Home Run (4/13) | Winning Pitcher | Losing Pitcher |
| C.J. Nitkowski | Mark Little | Mark Little | Eric Anthony | Bubba Smith | C.J. Nitkowski | Jose Alberro |