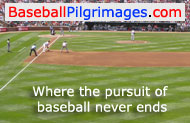 Baseball Pilgrimages
Ballpark Info
Directions
Tickets
Phone: 304-487-2000


Field Facts
Outfield Dimensions


LF: 330' CF: 396' RF: 330'

Playing Surface
Kentucky bluegrass

Home Dugout
1st Base


Team Info
Level: Rookie
League: Appalachian
Affiliate: Tampa Bay Rays
2017 Schedule
Ballpark Attendance
Year
Total
Average
2016
2015
2014
2013
2012
2011
2010
2009
2008
2007
2006
2005
2004
2003
14,635
27,051
24,848
24,610
26,110
27,685
26,946
25,944
24,233
26,882
27,148
26,477
25,374
26,339
457
820
753
746
816
814
869
927
932
867
936
946
793
878
* Attendance figures listed are the regular season totals drawn by Princeton at Hunnicutt Field

---

Baseball Pilgrimages
Where the pursuit of baseball never ends.
[Site Map]
Hunnicutt Field


205 Old Bluefield Road
Princeton, WV 24740

Opened:


1988

Capacity:


1,950

Elevation:


2,394'

---

Send this page to a friend
Questions or comments

Hunnicutt Field Facts & Figures
The stadium was built around a pre-existing high school baseball field. The original structure, which was built in 1988 with wooden bleachers salvaged from the city's old high school football stadium, was demolished in September 1998. The current stadium structure dates to 2000, as only a partially completed version of it was used during the 1999 season.
Original construction cost: $274,343
Renovation cost: approximately $3 million
Financing: the original cost was privately paid for by members of the community while the renovation was fully financed by the Hunnicutt Foundation. So no public funding was used.
The design/build team for the renovated (and thus current) stadium was Stafford Consultants (design) and Swope Construction (general contractor).
Named after Harold P. Hunnicutt, a prominent Princeton businessman and benefactor, who died in 1991. H.P. Hunnicutt, as he went by, primarily made his fortune from a Pepsi-Cola bottling franchise that he began in Princeton in 1938 and sold to a national bottling company in 1983. In 1987, he established the H.P. and Anne S. Hunnicutt Foundation as a means to give back to the community (his wife's name was Anne). Since its founding the Princeton-based charitable foundation has provided funding for numerous civic projects, including the city's library, performing arts center, football stadium and, of course, ballpark, which is officially named "H. P. Hunnicutt Field."
Owned by the Mercer County Board of Education.
Operated and maintained by the Princeton Baseball Association, a nonprofit organization that relies almost exclusively on volunteers. In addition to the ballpark, the Association is responsible for operating the Princeton Rays on behalf of the team's owner, which is its major league affiliate, the Tampa Bay Rays.
Does not have any suites.
The four light poles behind the outfield fence are made of wood and they are all that remain from the stadium's original construction.
The playing field was reconstructed prior to the 2011 season by Carolina Green, a North Carolina-based company that specializes in athletic field construction. The field rebuild then included a completely new playing surface that was regraded to meet professional baseball standards. Additionally, a new drainage system was installed beneath the field, which was resodded with grass grown in New Jersey while the infield mix came from Pennsylvania and the warning track material was brought in from Alabama.
Also serves as the home field for the Princeton High School Tigers baseball team.



Ballpark Firsts
First game: June 21, 1988; the Burlington Indians beat the Princeton Pirates, 14-4, with 1,526 as the announced attendance.

Official ballpark firsts (all of which occurred on 6/21/88):
| | | | | | |
| --- | --- | --- | --- | --- | --- |
| Pitch | Batter | Hit (single) | Home Run | Winning Pitcher | Losing Pitcher |
| Jeffrey Kuder | Vince Barranco | Todd Butler | Sean Baron | Greg McMichael | Jeffrey Kuder |