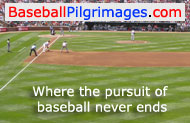 Baseball Pilgrimages
Ballpark Info
Directions
Seating Diagram
Tickets
Phone: 912-351-9150
Outfield Dimensions
LF: 322' CF: 400' RF: 310'


Sand Gnats Info
Level: A
League: South Atlantic
Affiliate: New York Mets
2015 Sand Gnats Schedule
Radio: WBMQ, 630 AM
Travel Info
Nearest Major Airport:
Savannah/Hilton Head International (17.3 miles)

Nearest Pro Ballpark:
Riley Park in Charleston, SC (112.8 miles)
Stadium Attendance
Year
Total
Rank *
2014
2013
2012
2011
2010
2009
2008
2007
2006
2005
2004
2003
2002
2001
2000
124,013
131,763
117,372
135,415
120,426
110,846
105,537
91,722
84,642
72,435
113,359
103,443
119,223
101,295
135,531
12
12
13
12
14
16
15
15
15
15
13
11
9
14
6
* The Sand Gnats' total home attendance ranking in the 14-team South Atlantic League, which had 16 teams in 2001-2009

---

Baseball Pilgrimages
Where the pursuit of baseball never ends.
[Site Map]
| | |
| --- | --- |
| Savannah Sand Gnats | Single-A Affiliate of the Mets |
Grayson Stadium Facts, Figures & Footnotes
Owned by the City of Savannah.
Referred to as Historic Grayson Stadium by the Sand Gnats.
Named in honor of William Leon Grayson, a Savannah born and bred military hero who briefly fought in the Spanish-American War and long served the city and state of Georgia in numerous official civic capacities. Grayson is credited with ensuring that the stadium would be rebuilt following the hurricane that destroyed most of it on August 11, 1940.
Was called Municipal Stadium from its opening until 1941, when the Savannah City Council unanimously voted to rename the stadium after William L. Grayson, who died the same year.
The cost to rebuild the stadium in 1941 was $150,000. Half of the total was provided by the federal government's Works Progress Administration (WPA), which was responsible for funding most stadiums built between 1935 and 1943, while the City of Savannah paid the rest of the tab.
Due to the outbreak of World War II, hurricane repairs to the stadium were never finished. Specifically, the brickwork on the third base side facade was never completed.
Hosted the first integrated game in South Atlantic League history when the Savannah Indians played the Jacksonville Braves on April 14, 1953.
Recent major renovations and upgrades to the stadium were completed prior to the 1995, 2007 and 2008 seasons. In 1995, the press box, sound system and bathrooms were enhanced. A new scoreboard with a nearly 300 square foot video board was the major addition to the stadium in 2007. The 2008 season saw the unveiling of a new playing field, which had a corresponding new irrigation and drainage system installed beneath it.
Can actually hold crowds of 8,000, but the Sand Gnats now list the stadium's capacity as half that.
Has two party decks, one each atop the first base and third base grandstand, that can hold up to 20 people.
Located within Daffin Park and surrounded by oak trees that are draped with Spanish moss.
Spring training tenant: Boston Red Sox (1932)
Minor league tenants: Savannah Indians (1926-1928, 1936-1942, 1946-1954), Savannah Athletics (1955), Savannah Redlegs (1956-1958), Savannah Reds (1959), Savannah Pirates (1960), Savannah White Sox (1962), Savannah Senators (1968-1969), Savannah Indians (1970), Savannah Braves (1971-1983), Savannah Cardinals (1984-1995), Savannah Sand Gnats (1996-present)
Used by the Savannah College of Art and Design (SCAD) baseball team for most of their home games. Savannah State University played two home games at Grayson Stadium in 2009 and 2010.