Rebirth in Houston

A Limited Edition Lithograph by Bill Purdom
Building Houston's new park was a daunting task. After all, how do you top the "Eighth Wonder of the World," the famous Astrodome? First you build downtown, right at the corner of Crawford and Texas Streets, adjacent to Union Station. Then you include a state-of-the-art retractable roof. Finally, you add a fully operational scale railroad and you have the new wonder captured here at glorious twilight.
Size: 18" x 33"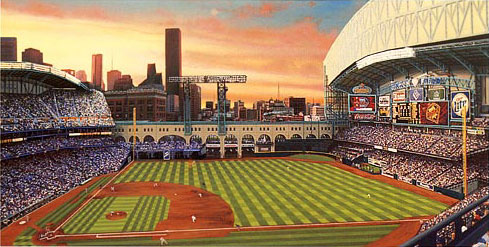 Only $135


Edition is sold out

About the Artist
Bill Purdom's art has been used by every major advertising agency in New York and his work has appeared in many magazines, including Sports Illustrated. He also was the first artist allowed by Steven Spielberg to paint the character "E.T." and since 1989 he has painted 78 great moments in baseball history, past and present, including Rebirth in Houston. Lithographs of all of Purdom's ballpark paintings are a part of the permanent collection of the National Baseball Hall of Fame.