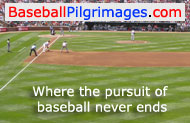 Baseball Pilgrimages
Ballpark Info
Directions
Seating Diagram
Tickets
Phone: 636-240-2287


Field Facts
Outfield Dimensions


LF: 320' CF: 382' RF: 299'

Playing Surface
Natural grass

Home Dugout
1st Base


Rascals Info
Level: Independent
League: Frontier
MLB Affiliate: none
2017 Rascals Schedule
Ballpark Attendance
Year
Total
Average
2016
2015
2014
2013
2012
2011
2010
2009
2008
2007
2006
2005
2004
2003
2002
2001
2000
1999
82,061
91,354
81,662
92,652
107,986
71,958
113,431
89,776
106,114
100,556
109,816
108,928
185,333
163,114
162,597
153,905
157,922
151,661
1,908
1,903
1,815
1,971
2,160
1,564
2,363
1,952
2,122
2,095
2,387
2,368
4,111
3,793
3,966
3,754
3,948
3,792
* Attendance figures listed are the regular season totals drawn by the Rascals at CarShield Field
Travel Info
Nearest Pro Ballparks:
Busch Stadium in St. Louis (33.3 miles)

GCS Ballpark in Sauget, IL (40.1 miles)

Rent One Park in Marion, IL (148 miles)


Ballpark Directory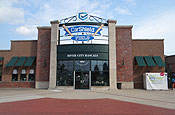 See all the ballparks, like O'Fallon's CarShield Field, in which professional baseball is played. Our Pro Baseball Ballpark List includes every current one.
---

Baseball Pilgrimages
Where the pursuit of baseball never ends.
[Site Map]
CarShield Field


900 T.R. Hughes Blvd
O'Fallon, MO 63366

Opened:


1999

Capacity:


4,989

Elevation:


492'

---

Send this page to a friend
Questions or comments


The ballpark in O'Fallon is basically modern -- meaning modern but basic.

An attractive facade featuring brick and the glass walling of the team store gives a nice first impression of CarShield Field, but inside there's nothing that will wow you.

A wide and open concourse is above a mix of berm, bleachers and stadium seating, and it can be traversed from the right field corner to left-center field. If you want to make a pit stop along it there's a former county sports museum building past first base that was transformed into a bar and lounge. The ballpark's original home plate, signed by the then 20-person grounds crew, is framed in there, but the bigger draw is the air-conditioned and otherwise comfortable environs that provide a respite from whatever the weather is.

CarShield Field has no real suites, as it has no second story, and is mostly memorable for its seemingly artificial short porch in right field that made necessary a whopper of a wall there. A hand-operated scoreboard is in middle of the super tall wall. The no-tech way to keep score is appropriate for a ballpark that is lit up via six classic-looking light tower stands. For whatever reason, the four not in the outfield are unusually far back from the field, although their placement has no effect on lighting it.

The field itself joins the scoreboard on the home team's wish list for replacement. In 2015, the Rascals made a proposal to the city to replace it with a nearly $1 million, 100% artificial turf surface. No action has been taken on that yet or a previous request for a video-capable scoreboard, with funding being the issue. When/if both upgrades happen, it will come at the loss of old-timey ambiance as the field is notable for its quite wide dirt path that connects the pitchers' mound to home plate.

Regardless of whether its most visible nostalgic aspects get scrapped and supplanted, the environment at what was long known as T.R. Hughes Ballpark is likely to remain a homey one, if only because homes from an adjacent neighborhood back up against the park's perimeter in left field, where the normally unused bleachers don't often enough have fans in them to block the view of the duplexes. Of course, the too many rows of too many bleachers that span left field are something else the team would like to remove, if only there was the money to do so.

So this ballpark remains a throwback to how they were built when it was built, which was in the portion of the modern era that now feels like a bygone era.
Location

CarShield Field is a little over a mile from I-70. Found on the north side of the Interstate, just exit at T.R. Hughes Boulevard and drive until you arrive, going past the Ozzie Smith Sports Complex sign on the way. Although the ballpark is a part of the 76-acre park named for the famed Cardinals shortstop, it's separated by trees from the seven fields used for amateur baseball and softball play. So the Rascals' field really has a location that's distinct from the rest of the complex.
Parking

The paved parking lot on ballpark grounds is reserved for staff, premium ticket holders and those willing to pay. Hence most people park across the street from CarShield Field, where it's free to do so in the paved lots there. A pedestrian bridge connects the free parking lots to the ballpark so everyone can walk over Hughes Boulevard rather than trying to walk across its five lanes.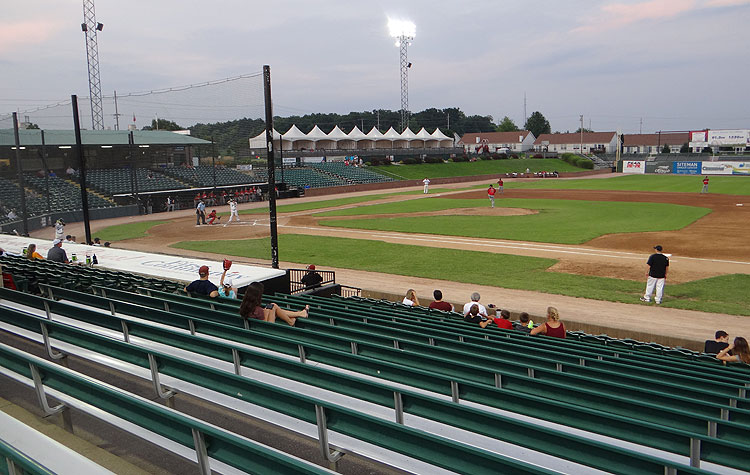 CarShield Field Facts & Figures
Construction cost: $3.9 million
Financing: A combination of privately and publicly-sourced funds were used. Pledges from private individuals and companies equaled about $1 million, with homebuilder Thomas R. Hughes' company leading the way in fundraising with $250,000 pledged by T.R. Hughes Inc. Bonds issued by the O'Fallon Public Facilities Authority paid for the balance. The city's resulting ballpark debt is set to be paid off in 2018.
Architect: HOK Sport
Construction manager: Clayco Construction
Groundbreaking date: June 10, 1998
Owned by the City of O'Fallon.
Naming rights: CarShield, a vehicle protection plan company based in neighboring St. Peters, pays $124,800 per year through 2024, and the name CarShield Field was officially announced on April 7, 2016. The agreement is actually between NRRM LLC, which owns CarShield, and the Rascals, and the team receives all but $10,000 of the annual revenue, with the 10K cut being the city's share of the proceeds. Begun in 2005 under a different name, CarShield essentially offers extended automotive warranty service plans and is headquartered 5 miles from the ballpark.
Was originally called T.R. Hughes Ballpark and that was the name through the 2015 season. Although that name was mostly chosen in honor of Tom Hughes' financial donation for the park's construction, his home building company, T.R. Hughes Homes, did pay a yearly fee of $10,000 to maintain the naming rights to the ballpark, which originally had a listed address of 900 Ozzie Smith Drive. That was later changed to 900 T.R. Hughes Boulevard, and that tribute was not affected when the ballpark was renamed.
Current lease length/terms: 10 years, spanning the 2013-2022 seasons; the Rascals pay a varying amount to the city in annual rent plus make a fixed yearly payment of $12,200 to satisfy previous debt that totaled $122,000. According to the lease, the Rascals' rent was set at these amounts: $50,000 for the 2013-2015 seasons; $75,000 for 2016 and 2017; $100,000 for 2018 and 2019; and $150,000 for 2020-2022, although that would drop to $100,000 a year if an artificial turf field is not installed.
Does not have any skyboxes or traditional suites, although there are areas down each outfield line where what's referred to as "suites" are found: the 9 open-air suites on the right field line concourse are merely semi-private spaces atop the seating bowl while the deck along the left field line has 10 tent-covered suites.
To make up for the short distance down the right field line (299'), the wall there is 40 feet tall. It also has a nickname: the "Big Dog Wall." Three tiers of ad billboards make up the Big Dog Wall, which has a hand-operated scoreboard in its center. The manual scoreboard was painted red in 2007; prior to then it was colored blue.
Became the first ballpark in the state of Missouri to host minor league baseball since 1955, when Clemens Field in Hannibal was home to a Class D team. Ironically, following that 44-year drought it was just two days after the Rascals played their first home game in O'Fallon that another minor league ballpark opened in Missouri, with Price Cutter Park in Ozark being the site, although pro baseball lasted only six seasons there (1999-2004).



Ballpark Firsts
Grand opening ceremonies were held on May 27, 1999. About 3,000 people attended the festivities that included a slow-pitch softball game in which Lou Brock, Bob Gibson, Ozzie Smith and other former Cardinals players participated.
First game: June 8, 1999; the River City Rascals beat the Dubois County Dragons, 6-5, with 4,173 as the announced attendance. The game began at 7:33 p.m. and was preceded by a ceremonial first pitch thrown by Ozzie Smith to Jack Clark.

Official ballpark firsts (occurred on 6/8/99):
| | |
| --- | --- |
| Pitch | Home Run |
| Randy Eversgerd | Aaron Jaworowski |