Take the most ergonomically designed, multi-functional modern mouse and add the Mets' primary color and logo to it and you have this necessary computer accessory, which is sure to be a hit with any baseball fan.

Contoured for comfort, the Mets computer mouse uses an advanced 1000 DPI resolution optical scanning technology that is noted for its precise tracking ability to operate wirelessly, which it does with an included USB 2.0 nano device at a 2.4G frequency. The nano receiver is just 3/4" long, so it doesn't stick out from a USB port like many wireless mouse transmitters do.

The wireless Mets mouse is easy to use. In addition to the standard scroll wheel and left/right click buttons on its top, a pair of rectangular buttons on the mouse's left side enable any user to easily move backward or forward on a website without having to use a browser's buttons to do so. This mouse also has a CPI button below the scroll wheel. Pressing it changes how fast the mouse cursor moves on your screen.

Weighing less than 3 ounces and working with any Windows or modern Mac operating system, this lightweight mouse is the ideal gift for any computer savvy Mets fan and is the only "normal" sized mouse licensed by Major League Baseball.
Buy with major credit cards at CCNow



Shipping: FedEx Ground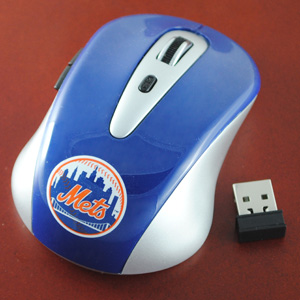 Mets wireless mouse with USB 2.0 nano device

Mets Mouse Specs & Details
Power supply: 2 AAA batteries (not included)
Size: 4" L x 2½" W x 1½" H
Weight, with batteries installed: 2.9 oz.
Wireless operating range: 32.8 to 49.2 feet
Color: blue/silver

* Compatible with Mac OS 10 or higher and Windows 7/Vista/XP/ME/2000/98
* Has on/off switch on bottom
* Nano transmitter can be stored on backside
* Made by Wild Sports; No assembly required