Bring the action and excitement of Pittsburgh's ballpark into your home with this real big and real impressive PNC Park mural.

Made by the wall sticking imagery pros at Fathead, the scene within the Pirates' stadium will look fantastic on most indoor walls, upon which the 6' x 4' mural can be easily placed with its patented low-tack adhesive that also enables it to be moved without damaging surfaces. Basically, you simply peel and place, then can reposition, remove or reuse the wall graphic where desired.

The mural itself is made of a tear and fade resistant high-grade vinyl, so it will stay eye catching forever. And as an enticing added bonus, the PNC Park mural comes with some smaller made-the-same-way Pirates images, and those logos (pictured at right) can either accompany the mural or be used wherever a Pirates fan likes.

The high-definition produced image of PNC Park will wow on any wall it's placed and the vivid mural of the Pirates' home is certain to be a crowd pleaser!

Only $99.99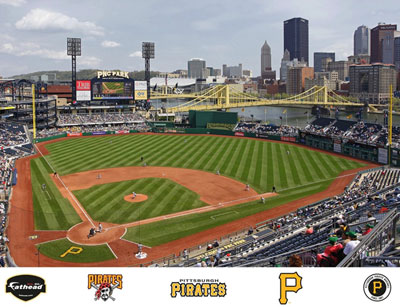 [ View larger image of mural and logos ]

Ballpark Mural Highlights & Details
* Measures 6 feet wide x 4 feet high
* Recent photo of PNC Park is used and printed in high-resolution
* Made of tear and fade resistant material
* Can be moved and reused without damaging the wall or mural
* Should only be applied to a clean, smooth, interior surface
* Not hard to put up, but does require 2-3 people
* Comes with 4 mini graphics of Pirates logos and a team-colored Fathead shield
* Made in the USA, ships from Michigan
PNC Park Mural Photo Gallery
Click images to enlarge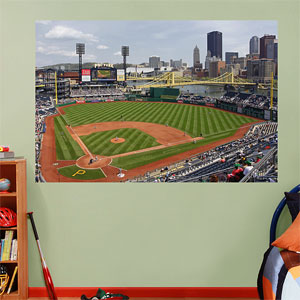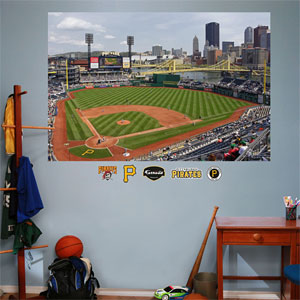 Product use info
Where to hang and not to hang:
The PNC Park mural and complimentary Pirates logos adhere well to smooth, indoor surfaces in temperature-controlled environments, such as painted drywall, glass, metal and sanded wood (without lacquer). Bedrooms, basements, and family or game rooms are the most popular destinations for the mural. The wall graphics, however, don't like the outdoors, cold places (like garages), textured or bumpy surfaces (like brick or cinderblock), nor unpainted drywall or very freshly painted walls.

How to install/put up:
1. You'll need someone to help. Probably two people for the ballpark mural, since it is so big. The small logos can be put up by one person.
2. After removing from the box it arrives in, unroll the mural and let it "relax," lying flat on the floor for about an hour.
3. Peel the mural away from its backing and place on the desired wall, slowly smoothing it into place with minimal pressure. Use the included plastic squeegee to remove any wrinkles and/or air bubbles.
4. Remember, these wall graphics can be repositioned if need be, as their low-tack adhesive backing allows you to move and reuse them with no damage to walls. That's something a traditional wallpaper mural or decal can't do.