Not too far off the beaten path that is I-80 in the small Iowa town of Van Meter is a museum dedicated to one of the state's most famous sons.
Located in the middle of the Heartland in the Hawkeye state, the Bob Feller Museum pays its respects to the "Heater from Van Meter," as Bob Feller was often known.
Supported by donors and run by local volunteers, the homage to Feller's life and career is inside of what looks like a small brick home in his hometown. Feller was born and raised in Van Meter, a city of about 1,000 folks that's less than 25 miles from the State Capitol in Des Moines.
Opened in 1995 on land donated by a local bank, the Bob Feller Museum contains in-depth and informative displays about "Rapid Robert," who rapidly rose to fame in 1936 when he made his major league debut prior to his senior year at Van Meter High School, where he returned following a summer spent pitching for the Cleveland Indians to graduate in the Class of 1937
NBC covered Feller's high school graduation live on its national radio network and Feller's museum covers pretty much everything else about the first ballot Hall of Famer. One example of the museum's thoroughness is a program from Feller's graduation ceremony that reveals he was president of his class of 20 students. As an astute historian would note, near the end of his pitching career Feller became the first president of the Major League Baseball Players Association.
In between those two presidencies, Feller threw three no-hitters. In one of the many display cases in the museum's two main rooms (essentially wings) are mementos from each no-hitter. The home plate from the final one, thrown on July 1, 1951 at Cleveland Stadium, is one of many unique artifacts and rare pieces of memorabilia that now reside in Van Meter, the highlight of which is actually the last bat ever "used" by Babe Ruth. That bat belonged to Bob Feller but was borrowed by an ill Bambino on June 13, 1948 to prop himself up on Babe Ruth Day at Yankee Stadium. Ruth, who would die 64 days later, had grabbed the bat out of the visiting team dugout and it would be over a half-century before Feller got it back. The bat's backstory is an interesting one, and part of the display.
Other displays focus on Feller's family life, ranging from his childhood to his own children, and his nearly four years of military service in World War II. Above each of the display cases are bronze baseball-shaped plaques that contain numbers ranging from 1 to 266. Each number represents one of Feller's 266 career wins and each plaque lists the date and opponent for the corresponding numbered win.
Feller had three sons and the oldest, Steve, was the architect who designed the museum, in which art can be found throughout, most in abundance on the walls of the wide corridor that leads to the two rooms with all of the glass display cases. At the end of that main hall are a handful of chairs and a flat screen TV, upon which visitors can watch a 25-minute video of Feller being interviewed by fellow Hall of Fame pitcher Tom Seaver.
Ballpark memorabilia is well represented. Original wooden seats from League Park and Municipal Stadium are near a large replica of League Park in one room. Photographs of Des Moines' then second-year ballpark are on display in the other main room, as Sec Taylor Stadium is seen in the background of a fundraising event it hosted for the museum in 1993. The draws that night were Feller and Ted Williams, and one of the half-dozen photos from the evening shows Feller on the ballpark's mound and Williams awaiting his pitch in the batter's box.
Williams is one of many history makers that have visited the museum after it opened. Within the narrow hallway just inside the front door that leads to the bathrooms are photographs of many of the others who have come to Van Meter over the years for "player autograph events." Each picture is autographed and has a sticker in the bottom right corner that lists the date of the player's appearance. Additionally, in the main corridor are home plate-shaped cases that collectively contain a couple hundred autographed baseballs that can be purchased.
By modern signature standards, Bob Feller's autograph was basic, which means it's quite legible. It was reproduced in two prominent places outside of the museum: etched into the brick in the collage on the wall facing the parking lot and on an oversized baseball placed near the entrance.
If it wasn't built of brick and didn't have that autographed baseball outside of it the Bob Feller Museum very well might be indistinguishable from the homes across the street from it.
And it should be noted, as it is in the museum, that Feller himself never actually lived in the city. The farmstead where he grew up still stands about 3.5 miles north (at 2965 340th Trail), but it's now owned by a doctor who lives in Des Moines. Nonetheless, a plaque in the museum certifies that the Feller Farmstead has been entered in the National Register of Historic Places.
The house that Bob Feller symbolically built in Van Meter is a register of one man's place in history, both as a famous athlete and citizen, and to stroll down its lane of memories is a memorable experience that any fan of America's national pastime will enjoy.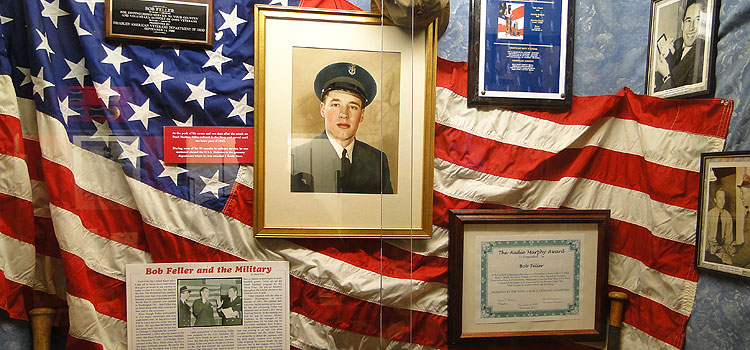 Feller's nearly four years of active duty service in the Navy are chronicled. Two days after the Japanese attacked Pearl Harbor in 1941 he became the first major leaguer to enlist in the military. Like everything else in his life, Feller excelled in combat. He was awarded eight Battle Stars as an antiaircraft gunner aboard the U.S.S. Alabama during his 44 months of active duty. When later asked, "What is the most important game you ever won?" Feller responded, "World War II." As a tribute to his service, servicemen and women of any military branch receive free admission to the Bob Feller Museum.