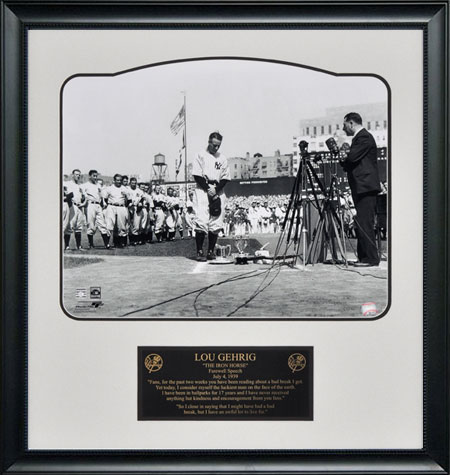 On July 4th, 1939, before 61,808 fans at Yankee Stadium, Lou Gehrig stood at a podium at home plate and declared himself the luckiest man on the face of the earth during one of the most memorable farewell speeches ever given.

This vintage black and white photo of one of the most poignant and emotional moments in the history of American sports comes double matted in a classy black frame and includes an engraved nameplate with excerpts from Gehrig's speech.

Size: 27½" x 28½"
Manufactured by Mounted Memories
Shipping: UPS Ground

Only $129


This product is no longer made

This is what's written on the nameplate below the photo:
Lou Gehrig
"The Iron Horse"
Farewell Speech
July 4, 1939
Fans, for the past two weeks you have been reading about a bad break I got. Yet today I consider myself the luckiest man on the face of the earth. I have been in ballparks for 17 years and I have never received anything but kindness and encouragement from you fans.
So I close in saying that I might have been given a bad break, but I've got an awful lot to live for.