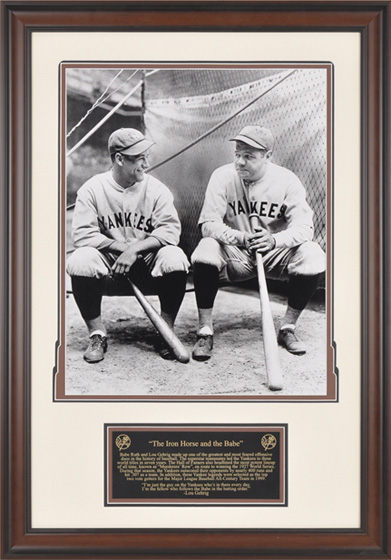 In this undated but timeless photo, two baseball immortals and Yankee legends sit side by side outside the batting cage in their home uniforms.

Teammates for a full ten seasons, Babe Ruth and Lou Gehrig remain as recognizable today as they were during their heyday, when they hit 3-4 in New York's famous Murderers' Row batting order.

The vintage 16" x 20" black and white photo of the Iron Horse and the Babe comes double matted in a wood frame and includes an engraved nameplate with remarks about the greatest slugging tandem in baseball history and a quote from Gehrig.

Size: 27½" x 29½"
Manufactured by Mounted Memories
Shipping: UPS Ground

Only $159


This product is no longer made

This is what's written on the nameplate below the photo:
"The Iron Horse and the Babe"
Babe Ruth and Lou Gehrig made up one of the greatest and most feared offensive duos in the history of baseball. The superstar teammates led the Yankees to three world titles in seven years. The Hall of Famers also headlined the most potent lineup of all time, known as "Murderers' Row", en route to winning the 1927 World Series. During that season, the Yankees outscored their opponents by nearly 400 runs and hit .307 as a team. In addition, these Yankee legends were selected as the top two vote getters for the Major League Baseball All-Century Team in 1999.
"I'm just the guy on the Yankees who's in there every day.
I'm the fellow who follows the Babe in the batting order."
-Lou Gehrig