This panoramic jigsaw puzzle of Chicago's Wrigley Field has 616 pieces. The picture used shows the Friendly Confines at twilight during a game against the Marlins on August 28, 2001.

The box serves as an accurate guide to completing the puzzle of Wrigley Field, which will measure 36" wide by 10" high when finished.

Made by Everlasting Images; Box size is 14" x 6" x 2"
To pay with major credit cards



Shipping: USPS Priority Mail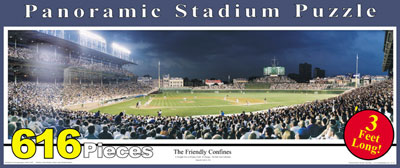 [ View larger image ]

Note: The caption below the image on the
box cover is not a part of the puzzle