Owning this crystal pyramid is a great way to keep AT&T Park close by at all times.

Made from K9 crystal, a glass-like material noted for its brilliance and clarity, each pyramid features an image of San Francisco's ballpark embedded in its base, which measures 1.9" by 1.9".

The picture of AT&T Park within the pyramid can be seen from all directions, as it's magnified for easy visibility.

The pyramid can be used as a paperweight but adds some flair to wherever it's placed, with a desktop the most popular destination.

A quaint keepsake for any Giants fan, the AT&T Park pyramid comes in a 2.4" x 2.4" cardboard gift box.

Pyramid Dimensions: 1.9" x 1.9" x 1.9"
Weight: 8 oz.
Buy with major credit cards at CCNow



Shipping: USPS First-Class Mail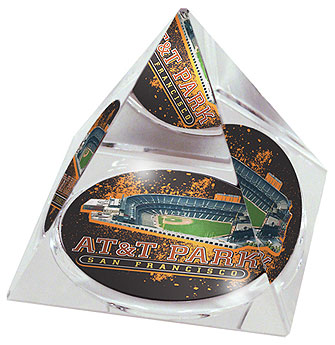 [ View actual size ]

Handcrafted in the USA by Sport Collectors Guild
Licensed by Major League Baseball