Owning this crystal pyramid is a great way to keep Great American Ball Park close by at all times.

Made from K9 crystal, a glass-like material noted for its brilliance and clarity, each pyramid features an image of Cincinnati's ballpark embedded in its base, which measures 1.9" by 1.9".

The picture of Great American Ball Park within the pyramid can be seen from all directions, as it's magnified for easy visibility.

The pyramid can be used as a paperweight but adds some flair to wherever it's placed, with a desktop the most popular destination.

A quaint keepsake for any Reds fan, the Great American Ball Park pyramid comes in a 2.4" x 2.4" cardboard gift box.

Pyramid Dimensions: 1.9" x 1.9" x 1.9"
Weight: 8 oz.
Buy with major credit cards at CCNow



Shipping: USPS First-Class Mail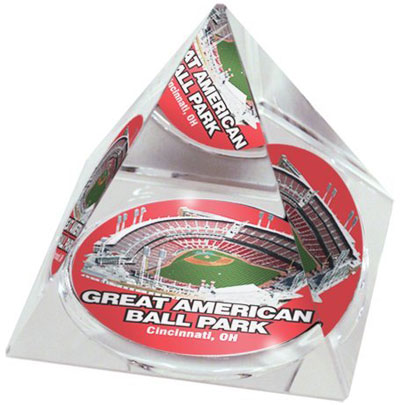 [ View actual size ]

Handcrafted in the USA by Sport Collectors Guild
Licensed by Major League Baseball