A miniature version of the real thing!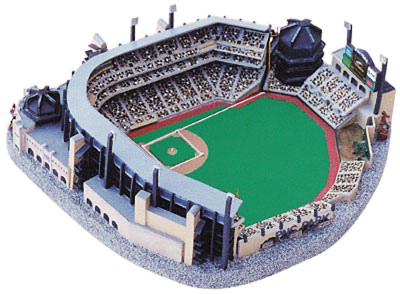 Exceptional detail has gone into this handmade, limited edition sculpture of Pittsburgh's PNC Park. The left field rotunda, light towers, and even the statues outside the stadium are positioned perfectly. The limestone exterior is captured in all of its splendor.

Made from a patented mixture of crushed stone and pine tar resin that allows for fine detail, the miniature PNC Park is hand-painted and then sealed with a polyurethane coating. The replica stadium is even filled with fans wearing Pirates colors, just like on game day!

Licensed by Major League Baseball, each replica of PNC Park comes with a collector's certificate. Two versions of this replica are available - the Gold and Platinum series. The only difference between the two is their size (the Platinum is bigger).

Production of both series is limited to 4,750 and each stadium is individually numbered on a brass plate displayed on its base that includes the name of the ballpark and home team.

All replicas are handcrafted in the USA by Sport Collectors Guild



Gold Series PNC Park Replica


Size: 6" L x 5" W x 3" H; Weight: 3 lbs


Only $49



Edition sold out on 1/22/13

Platinum Series PNC Park Replica


Size: 10" L x 9" W x 4" H; Weight: 7 lbs


Only $89



Discontinued on 11/21/15
Replica Stadium Display Case
The collector's display case has a wood base, an acrylic glass cover, and a mirrored back that does an amazing job at enhancing the replica of PNC Park. The platinum-sized case measures 12" x 12" x 6". The case for the gold series replica is sold out (as of Sept. 2012) and no longer produced by the manufacturer.