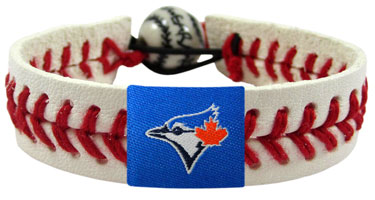 The Blue Jays baseball seam bracelet is made from the exact materials used in a baseball: genuine white leather and red thread, which is used to stich together the seams of the bracelet just like is done on the ball.
A Blue Jays logo label is centered on the one-size-fits-all wristband, which measures about 6" in length. An elastic baseball bead closure ensures that the adjustable Blue Jays bracelet fits securely.
Made by GameWear; licensed by Major League Baseball
Buy with major credit cards at CCNow



Shipping: 1st Class US Mail
Retro Toronto Blue Jays Baseball Seam Bracelet

The logo that the Blue Jays used from 2004-2011 is featured on the label of the retro bracelet.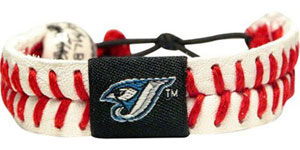 To use major credit cards