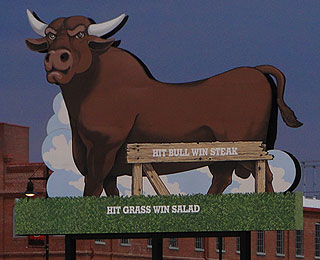 When people think of the Durham Bullsí ballpark they think of the Bull, as in the mechanical snorting bull that was brought to life in the 1988 film
Bull Durham
.
The original bull was a movie prop that Hollywood created for Kevin Costner & Co. and then left behind for use at Durhamís original Athletic Park. When Durham Bulls Athletic Park opened in 1995, the prop was put out to a pasture of sorts by being placed in the new parkís first base concourse, where it was hung and enjoyed a lengthy stay until finally being removed after 13 years.
So it was a replica snorting bull that debuted when the DBAP did. It first stood tall in right field, before getting moved in 1998 to behind the big blue wall in left field, where the 20í x 30í bull now looms near the foul pole in a fan plaza that was built in 2008.
The billboard-style bull is supported by three black steel beams and became double-sided in 2008 to coincide with the opening of the left field plaza. Prior to that, the bullís backside was barren. Then as it is now, the bull was made of wood and sheet metal.
While many changes have occurred to it over the years, the Snorting Bullís primary function has remained the same and when a home team player homers the bull goes into action. As the Bullsí hitter circles the bases, three things happen simultaneously:
1. Puffs of smoke spew from the bullís nostrils, hence the ďSnorting BullĒ moniker
2. The bullís eyes light red, thanks to embedded LED lights
3. The tail wags, which accounts for the bullís mechanized ability
The big bovineís displays of celebration also occur following every Durham Bulls victory.
Of course, itís not just what the bull does that has made it so famous. Much of its enduring appeal comes from the "Hit Bull Win Steak" slogan that is emblazoned on a sign that is a part of the piece.
Thereís truth in that slogan too, as any batter that hits the bull-sized bullseye does indeed win a steak from a local restaurant.
Also, while the base of the sign has always been a field of grass, nowadays that grass has its own motto: ďHit Grass Win Salad.Ē
Thatís ballpark humor at its finest. And the Snorting Bull is one of the finest examples of local creativity youíll ever see in a ballpark, even if the original idea for it didnít originate in Durham.