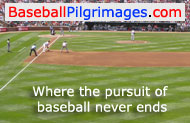 Nationals Spring Training: 2005-2016
Space Coast Stadium Facts, Figures & Firsts
Construction cost: $6.2 million
Architect: DLR Group
Owned by Brevard County, which financed construction of the stadium via a 1-cent hotel bed tax.
The stadium is the centerpiece of an 80-acre parcel of land that includes the Carl Barger Sports Complex, which contains five full-sized practice fields and two half fields. The complex is named after the first president of the Florida Marlins, who died in 1992 at age 62 of an aneurysm before the team's first game. The Marlins paid for the $3.5 million construction cost of the practice complex, which like the stadium was built on land donated by The Viera Company.
Named in honor of NASA's impact on the region, which is known as the Space Coast due to the presence of the nearby Kennedy Space Center. The stadium's name was approved by the Brevard County Commission on October 5, 1993, by a 3-2 vote, after being recommended by a selection committee that considered 173 names.
Spring training tenants: Florida Marlins (1994-2002), Montreal Expos (2003-2004) and Washington Nationals (2005-present)
Minor league tenant: Brevard County Manatees (1994-present)
First game: The Florida Marlins beat Florida State University 7-2 on March 2, 1994 in front of 2,317 fans.
First official game: The Florida Marlins beat the Kansas City Royals 9-6 on March 4, 1994 in front of 7,494 fans.

Other stadium firsts (all of which occurred on 3/4/94):
| | | | | | | |
| --- | --- | --- | --- | --- | --- | --- |
| Pitch | Batter | Hit | Home Run | Winning Pitcher | Losing Pitcher | Save |
| Ryan Bowen | Keith Miller | Keith Miller | Bob Hamelin | Yorkis Perez | Jeff Montgomery | Bryan Harvey |

For a complete ballpark guide, visit the...

Space Coast Stadium
page at Spring Training Connection