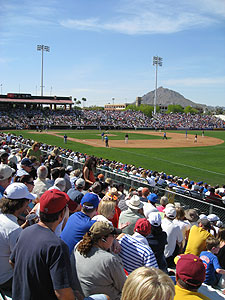 Myth No. 1: Spring Training is poorly attended.
Fact: A record of nearly 3.7 million attended Spring Training in 2008, which broke the previous year's mark. These numbers reflect an average attendance of 8,000 fans per game.
Myth No. 2: Spring Training is mostly attended by rich, retired people.
Fact: Attend a Spring Training game and you'll see just how big a myth this is. At many Spring Training ballparks – especially in Arizona – there are more single 20-and-30 somethings wearing next to nothing than there are retirees!
Myth No. 3: Spring Training has no fan atmosphere; it's just boring.
Fact: The great fan atmosphere – from the February workouts to the games themselves – is why fans attend. In fact, you really can't get more intimate than Spring Training. Where else – besides maybe golf – can you hear what coaches are relaying to their players, or players relaying to each other?
Myth No. 4: Spring Training doesn't feature superstars; it only features minor league or "B level" players that never make it to the big leagues.
Fact: Spring Training's big draw is the superstars – and the fact you can get to see them so up close and personal. Yes, you also see minor leaguers. But you see everybody – superstars, rookies, cagey veterans, and guys barely 19 years old.
Myth No. 5: Spring Training is too expensive for a middle-class family.
Fact: Flying to Arizona or Florida, and renting a car or hotel, is much cheaper than in the past, with more airline competition in Spring Training cities like Phoenix, Orlando and Tampa. Spring Training ticket prices at most ballparks are half of what you would pay for a similar seat at a regular season game. The only thing expensive about Spring Training is concessions, but (dah) they're expensive at any sporting event. Eat before you arrive and sneak in bottled water.
Myth No. 6: Spring Training ballpark seating options are lousy.
Fact: Spring Training actually offers some of the best sight lines you'll find anywhere. The majority of Spring Training facilities have either opened or undergone major renovations in the last decade to keep up with demand, ensuring fans have a rewarding, comfortable experience at the ballpark. There are plenty of seating options to choose from at most sites – from grandstand seating under a roof that provides shade to $5-10 general admission tickets.
Myth No. 7: Most players at Spring Training are loafing it, and don't care.
Fact: Most players aren't loafing it one bit. With the exception of the major stars, most players are either trying to make a Major League roster or win a starting job. The players working especially hard are those "on the bubble" between making Major League money, or Minor League money in Triple-A. New free agents and the stars themselves also take Spring Training just as seriously to make sure they're ready for Opening Day given the intense media scrutiny many are under, making all those big bucks with expectations.
Myth No. 8: Spring Training cities offer no entertainment besides baseball.
Fact: In Arizona, Spring Training is located in two major metropolitan cities with an abundance of non-baseball entertainment, from a wealth of golf courses, spectator sports, hiking and other attractions to a variety of nightlife. In Florida, only a few teams actually play in small towns, and those that do offer plenty of daytime entertainment while nightlife is available in nearby larger cities like Orlando, Tampa, West Palm Beach and Fort Lauderdale.
Myth No. 9: Going to a Spring Training game requires no pre-planning.
Fact: Spring Training ballparks were built for the Arizona Fall League and Florida State League, both of which draw miniscule crowds compared to when the game's best are on display. What this means is that the process of "getting to" the ballpark is anything but easy at most facilities since their parking and ticket booths are designed for small crowds, not large ones. You must plan.
Myth No. 10: A small segment will always believe these myths are facts.
Fact: This one might actually be true! But their ignorance only means they likely won't be attending Spring Training, which means more room for you to secure that better seat behind the dugout – and to help dispel these myths!
Spring Training Guides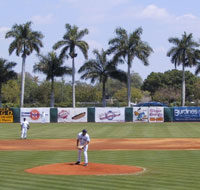 If you are heading to Arizona or Florida for spring training in 2009, ballpark and travel expert Joe Connor has written the guide you need. With insightful information on the ballparks and cities that host each team, his Ultimate Spring Training Guide contains 160 pages of tips that will help you plan your trip.

Two smaller guides are also available for fans that need info on just one state: the Arizona Cactus League Guide (89 pages) and Florida Grapefruit League Guide (100 pages).
All three of Connor's guides are available in PDF format.

"Everything you need to know before going anywhere to watch spring training."
- Jerry Greene, Orlando Sentinel

Get more info or purchase a Spring Training Guide
About the Author
Joe Connor has been to more than 400 ballparks in numerous countries. A freelance writer by trade, he's contributed baseball and sports travel pieces to many major websites, including ESPN, FOX Sports and MLB.