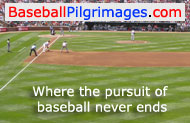 Astros Spring Training: 1985-2016
Osceola County Stadium Facts, Figures & Firsts
Construction cost: $6.5 million (approximate)
Architect: HOK Sport
Construction manager: Graham Contracting Co.
Owned by and named after Osceola County, which financed construction of the stadium with a 2% resort tax.
The stadium is the centerpiece of the 120-acre Osceola Heritage Park, which contains four full-sized practice fields, two half fields, the 8,000-seat Silver Spurs Arena, a pavilion designed to house livestock, and a 47,850-square foot exhibition hall.
Underwent an extensive $18.3 million renovation that was completed in 2003. The renovation architect was DLR Group and they designed a completely new exterior facade, while all seating inside the stadium was replaced and the press box and clubhouses were upgraded.
Spring training tenant: Houston Astros (1985-present)
The Astros' current spring training lease with the county runs through 2016.
Minor league tenants: Osceola Astros (1985-1994), Kissimmee Cobras (1995-2000)
Has been the site of the Jim Evans Academy of Professional Umpiring training courses since 1994.
First game: March 8, 1985; the Houston Astros beat the New York Yankees, 9-6, with 6,742 as the announced attendance. The honor of throwing the ceremonial first pitch went to Larry Whaley, an Osceola County commissioner who was instrumental in introducing the idea of building a spring training complex to the full county commission.

Other stadium firsts (all of which occurred on 3/8/85):
| | | | | | |
| --- | --- | --- | --- | --- | --- |
| Pitch | Batter | Hit (single) | RBI | Winning Pitcher | Losing Pitcher |
| Joe Niekro | Omar Moreno | Omar Moreno | Dale Berra | Joe Sambito | Mike Armstrong |

For a complete ballpark guide, visit the...

Osceola County Stadium
page at Spring Training Connection