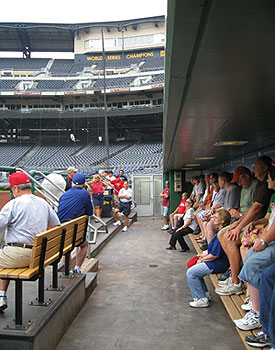 The highlight of most ballpark tours is the dugout visit. Shown here is the Pirates' at PNC Park.
At most, a major league team will play in its home ballpark 94 times a year, although reaching that number would take hosting two spring training games before the regular season and the maximum 11 playoff games following it.
But even for the eight teams that quality for the playoffs that's a highly unlikely scenario. The 2007 NL Central winning Chicago Cubs, for example, played just 82 games that year at Wrigley Field, where their postseason run of futility continued against the Diamondbacks by way of a first round three game sweep.
More often than not, the typical major league team plays 81 games at home each year and 81 more on the road, which means over the course of a calendar year you have a 22.2% chance of watching the home team at home.
That doesn't mean, however, that fans aren't allowed into the ballpark on the days when it's not a hub of baseball activity.
That's because 93% of major league teams – 28 of 30 – offer fans a chance to tour their field of dreams…or more accurately the structures surrounding it. Only in Minnesota is a visit to hallowed ground guaranteed. Of course, that ground is carpeted with artificial turf, not the green grass you can't walk on in other places, where your tour guide will tell you the type of grass the field is covered with. For the record, FieldTurf is installed at the Metrodome.
At all but a handful of ballparks reservations for guided tours are not required. Those used by the A's, Angels, Phillies, Rays and White Sox are exceptions to the rule. Tours there must be booked in advance. All others allow for walk-ups.
While they vary in cost and length, all tours include visits to a few common destinations, such as a suite, dugout and the press box. Some allow fans into the visitor's clubhouse. A few teams let fans into or near the home team's clubhouse. The Yankees are one such team, but only when they are playing on the road and even then fans will have to remember the experience, as photos aren't allowed to be taken while inside of the players' lair.
Not surprisingly, the Yankees are the only team to have a tour sponsor, as their Classic Tour is presented by Zales. Those touring the diamond in the Bronx get to take a stroll through Monument Park. At Fenway Park fans get to take in the view from the seats atop the Green Monster, while the iconic bleachers in Wrigley are part of the most expensive ballpark tour ($25) in the majors.
The Cubs' cross town rival doesn't offer scheduled public tours, but the White Sox's U.S. Cellular Field will be opened for groups of 10 or more on Tuesdays and Fridays. Only the Marlins and Mets have no tours whatsoever. That's understandable in Florida's football stadium, but not at the recently opened Citi Field, which so far has followed Shea Stadium's sans tour legacy.
A few ballparks have museums within their confines. Tours in Arlington, Atlanta and Kansas City include admission into them.
The Astros and Padres recently inaugurated what will likely become a trend. Their "Early Bird Tours" admit a limited number of fans with game-day tickets into the ballpark one hour before the gates open, allowing them to view batting practice as part of their tour experience.
While most teams offer a single tour package, the Royals have three types of public tours. Their Grand Slam tour of Kauffman Stadium "touches all the bases" from the comfort of a limousine golf cart complete with complimentary bottled water. It's also five times as expensive as the $10 Classic tour of "The K."
Aside from the expensive option in Kansas City, a comfortable pair of walking shoes is a must in all other cities, as your feet will be your mode of transportation for you and your guide, a team employee that is often a retiree.
In some cities, ballpark tours are offered year-round, although quite a few don't have any during the offseason. Depending on where you go during the season, tours are held daily or not very often. For instance, Angel Stadium is off-limits on dates when the Angels have a home game while during the final month of the 2009 season fans are allowed to "walk through the hallowed hallways" of Tropicana Field on just four occasions.
Tours frequently embark and end at the team shop, for obvious reasons, and times and dates they are offered vary by ballpark, although none are held on days of afternoon games.
Despite the fact most teams suggest that you arrive 15 minutes prior to the scheduled start of your ballpark tour there is no "penalty" if you don't.
Ballpark tours vary in group size. A handful of parks place limits of 25 people per journey, but none have minimums. During August 2009 I took a weekday tour of Progressive Field and only a couple from Scranton, PA trekked through Cleveland's ballpark with me.
Teams note on their Web site that tour schedules are subject to change, which explains why I didn't get to visit Heritage Park, the Indians Hall of Fame area, during my tour of Progressive Field even though it's a part of the tour itinerary touted by the team.
While tours are fairly inexpensive ways to see a ballpark, parking for them may not always be. Lots within the vicinity of PNC Park charge at least $10, while drivers in Boston, Chicago or New York would be thrilled to find something that cheap. On the flip side, parking is plentiful and free at a handful of places, including Atlanta's Turner Field.
Although money spent on parking doesn't go to a cause other than the proprietor's bottom line, the cost of admission is almost always funneled back through the team's charitable foundation, meaning tours are win-win for fans and the community.
Besides exposing fans to places normally off-limits, a ballpark tour often enlightens those in attendance about areas usually overlooked and facts previously unknown, making a morning or afternoon visit to a ballpark something all baseball fans are sure to enjoy.
For full details on touring the ballpark of your choice see the table below, which includes links to each team's ballpark tour information page plus the tour's cost and length.
2009 Major League Ballpark Tour Information
(Time listed for length is in minutes)
National League

American League


* Tours of Nationals Park last 60 minutes on game days and 75 minutes on non game days.
* The White Sox only offer tours of U.S. Cellular Field to groups of 10 or more.