My baseball pilgrimage started decades ago. It's also what I consider to be a life-long event. I do not consider this pilgrimage to be something that occurs during a good few weeks in the middle of summer, but rather something that I will engage in with loved ones for many, many summers to come, and eventually in exotic places like Japan and the Dominican Republic.

I have grown up in Oriole Park at Camden Yards since its opening day in 1992. And for years before the birds moved on to Eutaw Street I was regularly plucked from school on opening day and taken to Memorial Stadium. I'm fortunate enough to still spend summer days at the Yard with Sunday season tickets, and the odd night game here and there.

Camden Yards is obviously very dear to me, having spent nearly two decades there from April to August, and I had the luck of being there for Cal's 2131 with a friend that I still visit the Yard with. It's a shame that we Orioles fans have yet to experience the autumn chill of October games in Baltimore. But we're optimistic things will soon change for the better. They have to; statistics are on our side!

I was fortunate enough to enjoy games at some of the old stadiums before they were replaced by newer state-of-the-art facilities. I remember Phillies games at the old bowl-like Veterans Stadium with my uncle and Three Rivers Stadium in Pittsburgh with my father and his brother. And those opening day games with my step father will always keep Memorial Stadium in my heart.

However, there are a few stadiums that I will never get to experience. Tiger Stadium gave way to beautiful new Comerica Park, and was recently demolished. Before the 2009 season, I realized that Shea Stadium and Yankee Stadium would soon fall to the same fate. Fortunately, in 2007 I had set out on the first summer of my renewed baseball pilgrimage, as I did not want to miss out on those important ballparks before they were gone forever.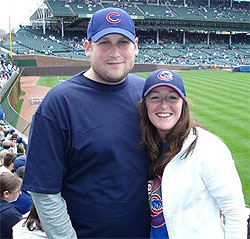 On our second ever visit to Chicago (with my girlfriend), perhaps the greatest city in America, we visited Wrigley Field for the first time. I don't remember much about the game, but the bleachers rocked with energy and excitement, something I found odd considering how long it had been since the Cubs were champions. I was to learn that there were many other things to celebrate in the Windy City. The fans were some of the most passionate I have yet enjoyed a game alongside.
The next summer I again visited the "Friendly Confines," this time with my beloved O's visiting for their first series at Wrigley. From the national anthem - the "O!" startled the Cubs fans who were not aware of the tradition in Baltimore - I had a smile on my face as the few thousand Orioles fans were united. My girlfriend and I (along with our friends) enjoyed a thorough knockout game, as the Orioles clobbered the Cubs. After the win, hordes of O's fans stayed in the bleachers as we cheered together. Later that summer we headed to Philly, to Citizens Bank Park. We filled up on cheesesteaks at Geno's before the game. We each purchased red Phillies shirts before the start of the game with the Tigers, her a Rollins shirt and I found a Ryan Howard T.
Fast forward to 2008: My father had never been to Yankee Stadium. I couldn't imagine being a baseball fan without ever experiencing a game in the Bronx, regardless that the team was moving across the street. And regardless of the facelifts, it was still the same cathedral of baseball that some of the greatest players in the history of the game played ball in. So as a late birthday present, I took my father to Yankee Stadium for the White Sox series with a friend of mine who also grew up with me at the Yard. We sat in the bleachers and enjoyed the decrepit, aging and yet glorious Yankee Stadium.
Some months before this, my girlfriend and I visited Shea Stadium in Queens. Only half the age of its cross town cousin, Shea seemed somehow more ancient, with much less history but quite enough character. It was bittersweet to see the shrine dedicated to the '69 Miracle Mets, who beat the Orioles in the World Series. It was a dreary, misty day, and luckily our seats were under cover. We drank beers and ate loads of hot dogs. By the end of the game we found ourselves touring the ballpark, in a way saying farewell, however tipsy it was. After that, we knew that we would attend many more games all over the country together, her and I. Like Dolphin Stadium, where we again saw the Mets take on the Marlins in Miami. And back in Chicago, we took in a White Sox game at US Cellular, which I believe may be the blandest of baseball parks, but I found the most incredible Italian Beef sandwiches below the stadium in right field. And I spent a few games at Nats Park in DC with the guys from work.
2010 looks to be just as exciting, as our first trip takes us to Boston, where the O's play at Fenway Park in April at the stadium I am most anxiously awaiting to see. And PNC Park in Pittsburgh, the stadium with probably the most underrated view in sports. And AT&T Park in San Francisco, once again for an Orioles series.
- Elton Alwine
Baltimore, Maryland
(posted on January 15, 2010)