My brother and I are both from southern Indiana and are huge Cincinnati Reds fans. Over the years as children we attended multiple games at Riverfront Stadium and made occasional visits to Louisville to watch the AAA Redbirds play at the Fairgrounds.

As we grew older, we talked longingly about the possibility of Major League road trips to cities far away and finally, in 1998, we made it happen. What seemed then as just a long weekend with the guys has become an annual pilgrimage to visit the nation's baseball monuments.

That first trip seems like a long time ago and in context with our most recent trip it was done on a tight budget with little imagination.

We left New Castle, IN on a Thursday evening in the middle of summer. There were three of us – me (age 29 then), my brother Greg (21) and a college friend of mine named Garry (27) - and we piled into my company van anxious for adventure. We barreled down the highway smoking cigarettes, listening to Dave Matthews and talking about our favorite baseball players and moments throughout the years. Time and the miles passed quickly by and despite a thick fog in Pennsylvania that turned our hair gray as we flew blind down the highway, the night drive went without incident.

As the sun rose, we found ourselves driving through the New York countryside passing by small meadows filled with barns and lots of dairy cows. It didn't really look like we were closing in on some of the most hallowed ground in the game but soon we saw the signs for Cooperstown.

Cooperstown seemed like the appropriate start of our baseball adventures. We knew it was there that we'd see relics from baseball's past and plaques adorned with names of our heroes. We were ready to run right in but, first things first, we had been traveling all night and needed to freshen up a bit. The local Amoco station seemed like the logical choice and we virtually showered in the tiny bathroom sink. There we were brushing our teeth and spitting onto the greasy ground at a gas station and I had probably never been so happy or excited.

We walked around town waiting for the shops to come to life and slowly things began to move. We saw the card shops and souvenir parlors, the eateries and candy stores. It was like a little baseball village. After some more browsing it was time for the Hall of Fame to open and we walked up to the front doors. Once inside we were like children wondering what new sights waited around each corner. It was truly an amazing experience but all too quickly, it was time to go. If we were going to make the Mets game that evening, we had to get on the road.

We left Cooperstown and made our way to the interstate. As we went down the highway, you couldn't really tell the city was coming up except the number of lanes kept growing and the storm clouds you thought you saw on the horizon transitioned into a brown, polluted haze.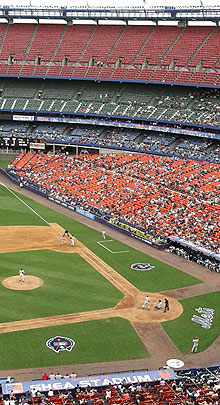 Driving through New York City wasn't nearly the problem we thought it would be and we arrived at Shea with plenty of time to spare. We sat in the parking lot and drank a couple of beers and talked to some Mets fans who pulled up nearby. Finally, we worked our way toward the park and lucked into some box seats at face value that someone was trying to part with. We made our way to the gates and went in.
Now, I have heard Shea described as a dump by a lot of people but I didn't find that to be the case. We walked around and watched batting practice and noticed that though the stadium was basically done in "cookie cutter" fashion, the place had some unique features and everything seemed clean and painted nicely (if you can call that orange and blue nice).
The game that night was against the Phils and we managed to see Rolen take some BP. Scott is from Jasper, IN and it was fun to watch the hometown boy smack some liners and launch a couple over the fence. We found our seats and hunkered down as the game began. It was then that a waitress came up and took our order. That was my first encounter with that type of service at a ballpark and judging by the amount of money he spent, it was Garry's first time too.
Anyway, the game was enjoyable but it too went too fast and we were on our way once more – destination Williamsport, PA. We made our way back through the city and onto the interstate headed west. After several hours of, by now, exhausted travel, we came to the Williamsport exit.
Coming into Williamsport, we passed the site of the Little League World Series. We didn't stop to take a look but made a mental note for a possible future trip. We checked into the hotel, stumbled to the room and hit the sack. Sleep was constantly interrupted by snoring and a bad air conditioner but all was well.
Saturday began with a quick trip to buy some beer and some leisurely time spent by the pool. Soon we worked our way over to the local ballpark (Bowman Stadium) to watch a game with the Williamsport Cubs. I believe at the time they were a Class-A affiliate of the Chicago Cubs.
The stadium was awful. In other words, it was perfect. There was a nice crowd on hand that night and we got to watch a nice ballgame from the front row with a bunch of young guys playing their hearts out, trying to move up the ladder. We even managed to get some baseballs and had one signed by Kerry Wood's high school battery mate.
The evening ended back at the TGI Friday's which was connected to our Holiday Inn. The losing team was actually staying there and we managed to have some conversations with a couple of their guys. All in all, the minor league game was the highlight of the trip.
We hit the road early the next morning and rolled back into New Castle late that afternoon. We rehashed the trip several times and decided "baseball trip" should be an annual affair and it has been ever since. Since then, we have been to over twenty major league parks and ten minor league stadiums with several hilarious adventures.
- John Dattilo
New Castle, Indiana