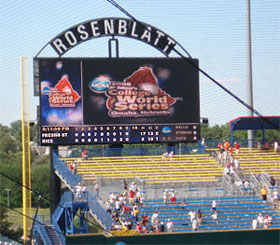 The exact roundtrip mileage is 1,432 miles from our front door, to our uncle's in Omaha, Nebraska, and back to Arlington, Texas. Needless to say, the first 716 were a piece o'cake, as the anticipation to enjoy a 4-day weekend in Omaha was enough to carry us through the trip across five states.

The invitation to attend the College World Series (CWS) was one more than five years in the making. Our family in Omaha has consistently invited us to attend, knowing it be a hard sell with an NFL, MLB, NHL and NBA team in our backyard. But, this year, as we laid the oldest member of our extensive family to rest, we promised Omaha would come in mid-June. And so it was.

Even upon our arrival to the great state of Nebraska, signs of the CWS abounded, as this is one of the most anticipated events in the state. Johnny Rosenblatt Stadium is the home of the NCAA CWS, has been since 1950, and will continue to be through the year 2035 in a new stadium, set to open in 2011 in downtown Omaha.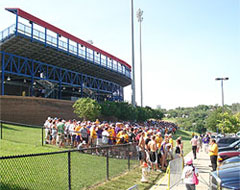 Though I have attended other NCAA events, few can compare to the excitement of this event. This is a line to one of the general admission gates to Rosenblatt. Except for a few strays, most of these are LSU fans! The line was some 10-people wide, and about 200 yards long! Tailgaters were out in numbers, and the city of Omaha has done a spectacular job in making families feel welcome and safe during this great time in sports.
In the 2008 CWS, the finalists were: Georgia, Florida State, Miami, LSU, Rice, North Carolina, Fresno State, and Stanford. The cumulative consensus amongst us was that Fresno State would emerge as the Cinderella surprise, while North Carolina would emerge to make a three-peat in the final game.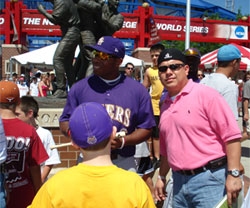 I got to snap a picture with all the NCAA teams, as well as some individual players of note. Some may remember a recent SportsCenter "top ten" plays, where Leon Landry made an amazing catch in center field on LSU's way to stun UC Irvine. Many hopeful fans compromised his attention, but I took the snap anyway. I have to tip my hat to these guys and their respective coaches. They were amazingly cordial and accommodating with the many, many young Little Leaguers and other fans alike who wanted an autograph, a picture.
Surrounding Rosenblatt, tents could be seen for blocks offering souvenirs, drinks and great food. I dare say the best hot dog/bratwurst I ever had was at the CWS. It is truly a magnificent event for families to enjoy.
As we arrived in Omaha and began to talk about baseball, the girls asked, "Papi (daddy), who do we cheer for? The Red Sox?" So, explanations began about why the Red Sox were not playing today. As native Texans, we chose to back Rice, in spite of predictions of who would actually win the series. To make this loyalty sweeter, I told the girls, 'Though the Red Sox are not here today, there is a guy named, Bryan Price, who will play for the Red Sox one day – we hope.' After a three-day search, we finally met Bryan after they were defeated by Fresno State in their first game.
Not only did Bryan give us his autograph and confirm that he will sign with the Red Sox (maybe already did, ya never know), he took this picture with us.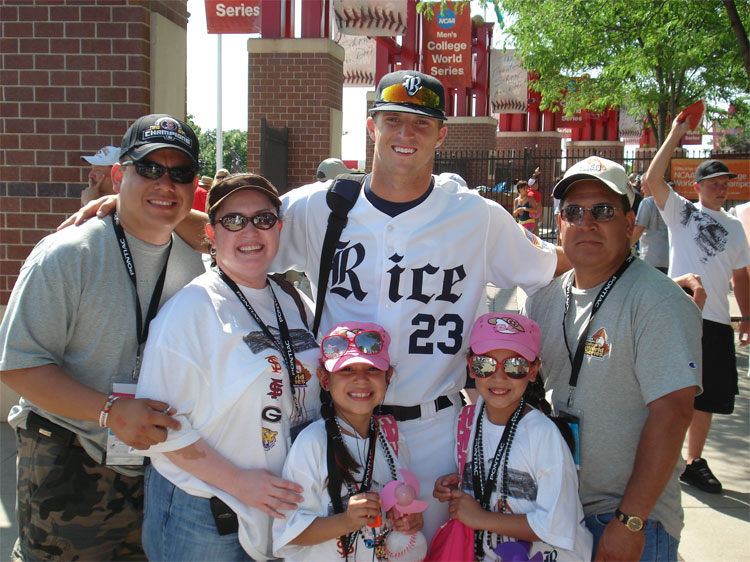 Pictured with us (far right), is uncle Jesus. He and his wife, Maria (not pictured), were our hosts and did an amazing job in making our little vacation a memorable one. They allowed us to create many more memories with our girls. Thank you both for that. You have no idea how wonderful this was for us.
So, the spirit of baseball and the American way is alive and well in Omaha via the CWS. We got to be a part of it this year, and hope to come back many times. We hope Bryan makes it to the Fenway mound sometime in the future, as he is a RHP. Many thanks to our family in Omaha for letting us create many more memories.
- Javier E. Najera
Arlington, Texas
June 21, 2008