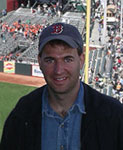 About Baseball Pilgrimages


Graham Knight
I love baseball. I love to travel. By combining these two passions I've been able to see a lot of ballparks across the United States. This website details many of those baseball experiences, which have occurred in a diverse array of ballparks from Oakland, California to Portland, Maine and many, many places in between.

Since I started keeping track of my ballpark road trips at the beginning of the 2001 season, I've seen games in over 180 major, minor and independent league ballparks, with quite a few visits to stadiums no longer in use (Astrodome, Tiger Stadium, etc.) or ballparks not being used during my visit.

Along the way I've seen a lot more than baseball games. I drove up to the Grand Canyon in Arizona after a Diamondbacks game, visited Mount Rushmore in South Dakota after watching the College World Series in Omaha, viewed the Liberty Bell before a Phillies game, and had many more amazing experiences in my pursuit of watching America's pastime across her native land.

Quite simply, I've found that a tour of ballparks is a great way to see America, as professional baseball is dotted across its landscape. I've been to places I'd never thought I'd go, or probably would not have considered....all because of a baseball game.

This website officially started in the summer of 2002 after a minor league road trip to North Carolina. Since then, Baseball Pilgrimages has become a place for me to write and opine about my memories of a number of my ballpark trips. I do focus on the history and uniqueness of each ballpark in a manner that I've not seen often online and I hope that while you read about each ballpark memories of summer night ballgames are rekindled with fondness.

That's the spirit with which Baseball Pilgrimages was founded, and I hope to preserve the passion we all feel for this great game with each stroke of my keyboard.



About the Webmaster
For Graham Knight baseball has no offseason. He is the former Online Director of a successful baseball training aids and instruction company, which first enabled him to be around the game 365 days a year. He currently lives near Atlanta, GA, where he was in charge of the development and marketing of BaseballTips.com from September 2001 until March 2008. He continued to write the company's weekly newsletter until February 2010.
A December 1999 graduate of the University of Georgia, Knight got his start in the online world by building and maintaining the Web sites for FOX television stations in a handful of major markets, including Boston, Chicago, Detroit, New York and Washington DC. After a year of doing web work for FOX, Knight took six months off to recharge, travel and set his sights on working in baseball, which he has been fortunate enough to do now for over a decade.
Coining the phrase "baseball pilgrimages" in the summer of 2002, Knight's travels have given him a greater appreciation for the game's impact on people's lives in communities throughout America. He has been interviewed about his ballpark visits by local and national newspapers, magazines, websites, radio and television stations, including American Way Magazine, Bloomberg, ESPN, The Seattle Times, USA Today, and WBEN 930 AM in Buffalo, NY.
Knight has a library of photos numbering in the thousands from his baseball pilgrimages. A select handful of his pictures appear on this Web site, while others have been used for postcards by the Cleveland Indians (2004) and Chicago White Sox (2006). His ballpark photos have appeared in print, from a marketing brochure in Sacramento to a county financial report in Tampa...and countless other places. Additionally, a photo from Knight's Rickwood Field collection was published in the book Strange But True Alabama. Most recently, some of his minor league ballpark photos have been used in the Fox Sports TV series "Road To The Show."
Extremely passionate about the annual rite of spring that takes place in Arizona and Florida, Knight has written extensively about the spring training ballparks in both states and in November 2008 launched an online guide to all 26 at a Web site he named Spring Training Connection. In 2010, he published his first book, the Arizona Spring Training Ballpark Guide.
And it must be mentioned that, despite initially immersing himself in the game growing up as a kid near Pittsburgh, Knight is a lifelong Red Sox fan and has operated the Boston's Pastime fan site since 2001.
---