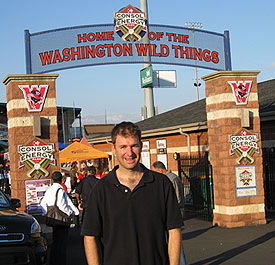 It took me until the latter half of their eighth season, but in 2009 I finally saw the Wild Things in my former hometown of Washington, PA.
Most people don't live in a city with a professional ballpark. You probably don't. Close to one? There's a good chance. But sharing the same zip code as a ballpark? Not likely.
The reason, like all things baseball, can be found in numbers and statistics, as places outnumber ball parks nearly 100 to 1.
Of the thousands of cities, towns, villages or otherwise incorporated places in the United States - there are around 20,000 in all - you have a roughly 1.2% chance of living in a defined area that is home to one of the 244 ballparks used by teams in the 24 official pro major, minor and independent leagues that charged admission during the 2009 baseball season.
The Frontier League is one of those leagues and the Washington Wild Things are one of those teams. But unlike their well-known and well-paid brethren in the nation's capital, this Washington-based team plays in the first county to be named after George Washington.
Established in 1768, incorporated in 1810 and temporarily renamed Steelers, Pennsylvania for the ten days preceding the Pittsburgh Steelers' Super Bowl XL victory, Washington, PA is where I spent six years of my childhood.
From ages 5 to 11, which paralleled 1980 to 1986, I lived in a neighborhood where during the summer we played baseball from the time The Price Is Right was over until dinner was served. That's just how it was in the pre-Nintendo days, although we enjoyed our Atari 6400 by night.
What we did not enjoy in our fine city was a professional nine to watch and mimic. The Pirates of Johnny Ray and Marvell Wynne yore could be found about 30 miles north in Pittsburgh's Three Rivers Stadium, a place our family visited every Opening Day and sporadically during the year after that.
The Bucs of the mid-80s were a bad bunch, and looking back the stadium might have been worse, especially when compared to its predecessor (Forbes Field) and successor (PNC Park).
But Three Rivers is where we went, the Pirates were who we watched, and both played an important role in molding my life-long obsession with the so-called children's game that has enjoyed favored pastime status in America for well over a century.
A year after the Pirates' ten-year skipper moved on to Atlanta so did we. But Chuck Tanner's Braves were no closer to us in Peachtree City, GA than his Pirates had been in Washington.
So our family's annual Opening Day trek still pointed 30 miles to the north, just to a different multi-purpose stadium (Atlanta-Fulton County Stadium) with an equally bad home team.
While I've remained rooted in Georgia ever since, none of the five cities in which I've lived has ever hosted pro ball or had a ballpark to do so.
But something unlikely happened to the Pennsylvania city of 15,000 residents 15 years after I left, as Washington joined the rarefied ranks of cities with professional baseball when the Canton (OH) Crocodiles relocated to a ballpark just two miles from the house where I had lived.
Today there are 144 cities in Pennsylvania bigger than Washington, but only a dozen of them have a team of their own, although technically Washington's Wild Things play in bordering North Franklin Township, which for all intents and purposes is a part of Washington, although it does have its own US Census Bureau designation (and population of 4,637).
So how the heck did the cradle of the Whiskey Rebellion back in the 1790s come up with the funds to build and christen a ballpark in 2002, the Wild Things' first year in Washington?
It helps to have a power broker businessmen counted among the populace, as Washington County does in Angelo F. Falconi. A successful real estate investor and astute businessman, the longtime local resident made, in the team's words, a "generous donation" that was "instrumental" in the building of a ballpark that opened on May 29, 2002 as Falconi Field.
Five years later, the ballpark was rebranded CONSOL Energy Park after the locally-based big-time coal company paid an undisclosed sum for 10 years of naming rights, thereby merging the miners of CONSOL with the minor leaguers of Washington.
Those minor leaguers live with host families in Washington County free of charge, one of the homey quirks of an independent league, which operates under no affiliation with the major leagues to which all of their players aspire.
As a 10-year old growing up in Washington it wouldn't have mattered whether the players were major or bush league to me. The Trinity High baseball team practiced on our elementary school's field and I can vividly remember getting autographs from their players as they walked through the North Franklin Elementary hallways.
So I'm sure I would've been thrilled as a kid to watch true pros in Washington.
Over two decades later I finally got the chance, when on August 22, 2009, I saw my first game in the 3,200-seat ballpark built upon the bluff adjacent to I-70 and above the former Franklin Mall, now called the Washington Crown Center.
The Wild Things have an impressive little facility with plenty to do within its confines and I must say it was a neat little thrill to pull for the hometown team, knowing they would've been my hometown team in a different era.
Washington must feel the same way, as CONSOL Energy Park has been packed since Mr. Falconi ensured that it opened. Sell outs are the norm and in 2008 the Wild Things drew 154,444 fans to their 48 home games, a 3,217 per game average, meaning they played to 100.5% of their ballpark's capacity.
Not bad for a city that boasts the Pennsylvania Trolley Museum as one of the local attractions.
The museum is one of the Wild Things' sponsors and every time the home team homers a trolley bell is rung over the PA system. That happened once during my visit, but the visitors from Crestwood, IL went deep twice and won the game, 7-3, before 3,636 fans and one proud former resident.
While the victors on my night of attendance were the Windy City ThunderBolts, I really believe the residents of Washington and the surrounding townships are the true winners. They have something 98.8% of all communities don't: a professional ballpark.
I'll likely always live in a city that remains in the majority, but it sure was cool to revisit my roots and see the ballpark that sprung up while I was away.
Well done, Washington and Wild Things ownership. I just wish you had built the ballpark two decades earlier.

Filled with amenities and fans, Washington's CONSOL Energy Park often has crowds that exceed its official capacity of 3,200. Besides the grandstand, they fit in a berm and party pavilion area in left and a hot tub deck in right. The ballpark is located 2 miles from where I lived in 1980-86.