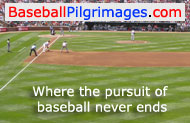 Baseball Pilgrimages
Stadium Attendance
Year
Total
Average
2016
2015
2014
2013
2012
2011
2010
2009
2008
2007
2006
2005
236,349
256,865
248,630
252,593
248,210
255,832
251,728
247,660
261,459
287,098
285,277
314,277
3,528
3,618
3,603
3,715
3,650
3,655
3,545
3,810
3,845
4,222
4,389
4,490
* Attendance figures listed are the regular season totals drawn by the Baysox at Prince George's Stadium since 2005
Travel Info
Nearest Pro Ballparks:
Nationals Park in Washington, DC (19.6 miles)

Camden Yards in Baltimore (28.2 miles)

Regency Furniture Stadium in Waldorf (32.1 miles)

Pfitzner Stadium in Woodbridge, VA (48.7 miles)

Ripken Stadium in Aberdeen (55.5 miles)

Harry Grove Stadium in Frederick (58.4 miles)
---

Baseball Pilgrimages
Where the pursuit of baseball never ends.
[Site Map]
Prince George's Stadium


4101 NE Crain Highway
Bowie, MD 20716

Opened:


1994

Capacity:


10,000

Elevation:


108'

---

Send this page to a friend
Questions or comments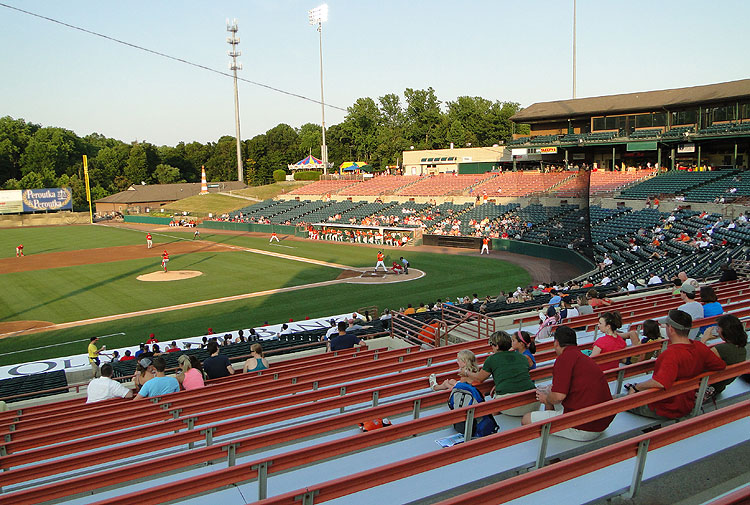 Prince George's Stadium Facts, Figures & Firsts
Construction cost: $9.9 million
Financing: The State of Maryland provided $4.5 million, Prince George's County paid $3.9 million, and ownership of the Bowie Baysox contributed $1.5 million. State money came from Program Open Space, which is funded by a 0.5% tax charged on every real estate transaction in Maryland. County money came from raising property taxes. The team money came from Maryland Baseball Limited Partnership, the entity that originally owned the Baysox.
Architect: Greenhorne & O'Mara, Inc.
General contractor: Sigal Construction
Groundbreaking took place on September 23, 1993.
Owned by the Maryland-National Capital Park and Planning Commission, which oversees the Prince George's County Department of Parks and Recreation, which is actually in charge of stadium administration.
Named after the county it's located in. Bowie is the most populated city in Prince George's County.
Located just south of Bowie city limits in a heavily wooded area that's off U.S. Route 301 and very near U.S. Route 50.
The original 20-year lease between the Baysox and the governing body that controls the stadium expired on December 31, 2014. That lease length was actually the culmination of a contract that had two five-year extensions exercised following the initial 10-year term.
The Baysox (home) dugout is on the first base side of the stadium.
Was built to Triple-A standards, as that was the original affiliated level goal of Maryland Baseball Limited Partnership, the organization that first owned the Baysox, hence the large capacity for Bowie's stadium, as 10,000 is the recommended minimum capacity set forth by Major League Baseball for teams at the AAA level (it's just 6,000 for Double-A ballparks).
The grandstand has seating for 8,000. Grass berms down each outfield line and standing room space can hold another 2,000 people.
The outfield dimensions were specifically chosen to replicate those of Baltimore's Memorial Stadium, where the Baysox played all home games in their inaugural season (1993), and which was better known as being the 38-season home for the Orioles from 1954 through 1991.
Was home to the annual Congressional Baseball Game from 1995-2004, after which the game between House and Senate members of each party moved to Washington, DC, where it has been played at the home of the Washington Nationals ever since. As for the games played at Prince George's Stadium, the Republicans won 8 of the 10 against their elected Democrat counterparts, outscoring them 96-53 in the process. The Dems' only wins in Bowie were in 1996 and 2000.
First game: June 16, 1994; the Bowie Baysox beat the Binghamton Mets, 14-6, with 7,142 in attendance. The game was played in 3 hours and 27 minutes.
Due to weather-related construction delays, the stadium wasn't ready in time for its originally scheduled opening day of April 12, 1994. Prince George's Stadium was finally considered complete enough (about 50% finished) to open on what was the 33rd home date of the 1994 season for the Baysox, who played their first 32 "home" games in four ballparks outside of Bowie as a result, at fields in Annapolis, College Park and Frederick in Maryland, plus at Wilmington in Delaware.

Official ballpark firsts (all of which occurred on 6/16/94, unless noted):
| | | | | | |
| --- | --- | --- | --- | --- | --- |
| Pitch | Batter | Home Run | Winning Pitcher | Losing Pitcher | Save (6/17) |
| Rick Forney | Ricky Otero | Billy Owens | Rick Forney | Joe Vitko | Armando Benitez |