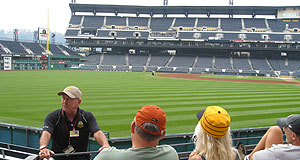 Major League Ballpark Tours



What You Need to Know to Become A Ballpark Tourist


There are 30 major league ballparks and all but two of them offer tours guided by team employees. A ballpark tour takes fans from the dugout to the press box and many points in between. Besides exposing fans to places normally off-limits, a tour enlightens those in attendance about public areas usually overlooked and facts previously unknown. Whether or not catching the home team at home is possible, a tour of their ballpark is a fulfilling opportunity that all baseball fans are sure to enjoy and is a memorable experience provided by all teams except the Marlins and Mets.
Memorable Ballpark Experiences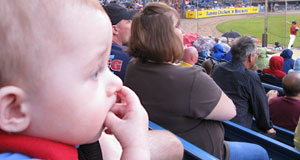 Zachary's First Game



McCormick Field in Asheville, NC - July 5, 2009


My 8-month old son saw his first baseball game during his first summer and the venue was an old one: Asheville's McCormick Field, established in 1924. Zachary, at 244 days, enjoyed the Tourists' 7-6 victory over the visiting Charleston RiverDogs primarily from the comforts of his mother's lap in a bleacher seat behind the home team dugout, where our rookie in life enjoyed the old ball game on a night in which rain drizzled intermittently during his inaugural immersion in America's national pastime.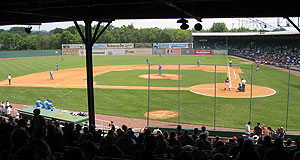 The Rickwood Classic



Baseball's Ultimate Throwback Game


It's one thing to "turn back the clock" and wear retro uniforms, quite another to play in a throwback ballpark. But every year that's what the Birmingham Barons do, much to the delight of ballpark fans everywhere. Rickwood Field, built in 1910, is an ageless wonder, a baseball playground of generations past. Lovingly restored, it is the oldest ballpark in the nation to host professional baseball thanks to the annual Southern League game that's played there. That game is known as the Rickwood Classic.


See the photo gallery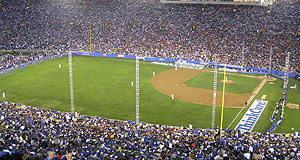 115,300



Los Angeles Coliseum - March 29, 2008


One hundred fifteen thousand three hundred. That was the announced attendance for an exhibition game played at the LA Coliseum between the Red Sox and Dodgers at the end of spring training in 2008. Which means what happened didn't count in the standings, just in the stands, where the crowd was certified by the Guinness Book of World Records as the largest ever to attend a baseball game. But were there really that many people there? Here's a fair and balanced account of the small game in the big stadium.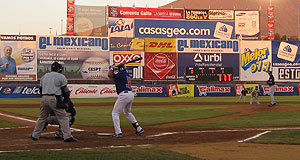 A Taste of International Baseball



Béisbol at Estadio Calimax in Tijuana, Mexico


Ever wonder what it's like to watch America's pastime somewhere where the English language is scarce? In the Mexican League, the game on the field looks familiar but the experience in the stands is anything but normal. Girls dressed like strippers on top of the dugout, a mascot on the field during the game, and lots of music are just a few things that will detract your attention from players you've never heard of. But it all adds up to a very lively, and intoxicating, atmosphere.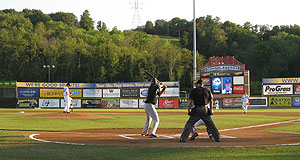 Homecoming in Washington



A Visit to CONSOL Energy Park in Washington, PA


We didn't have a professional baseball team when I grew up in Washington, PA in the 1980s. That all changed when the since renamed Falconi Field opened in 2002 and the Washington Wild Things were born. Well after my former hometown joined the rarefied ranks of cities with pro ball I finally got to experience the thrill of seeing a game there on August 22, 2009.
Ballpark Traditions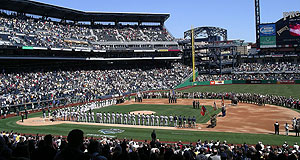 Opening Day



Why One Game Means So Much, Especially at Pittsburgh's PNC Park


A baseball season is a long six month journey, which makes it hard to imagine that a single game every April can inspire so much anticipation among fans in 28 Major League cities. Yet every spring the unofficial holiday known as Opening Day captures the imagination of fans in markets large and small, especially in places like Pittsburgh where the game is more than just one of 162. That's where I was on April 4, 2005, to experience the once-a-year pageantry and pizzazz at PNC Park.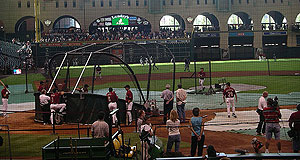 Batting Practice



Catch It (and the Souvenirs That Ensue) If You Can


The average life of a Major League baseball is only six pitches, but the likelihood of catching a foul ball is very remote due to the size of the ballpark and competition from thousands of fans. For most fans, batting practice is the only chance to get a ball as players successfully swing for the fences in front of small gatherings. With balls landing in relatively empty seats the likelihood of catching – or at least retrieving – one would seem simple. At least that's what I thought prior to my attempt to snag a souvenir during BP at Houston's Minute Maid Park.
Former Ballparks
Another Stadium Fades Into Oblivion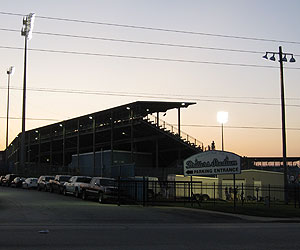 Drillers Stadium Loses the Drillers


The cliché is true. If you build it, they will come. It being a ballpark and they being a baseball team. Of course, "they" have to leave somewhere to arrive and when that happens a current ballpark becomes a former one. That happened quite a bit in the decade that is just about to end; 63 times in fact. That's counting major and affiliated minor league teams, one of which is the Tulsa Drillers, who left their self-titled stadium in the county fairgrounds for new corporate sponsored downtown digs.
Abandoned Ballparks List

Pro Parks Abandoned Since 1999
There are plenty of forgotten field of dreams scattered about the multiple levels of professional baseball. To see just how many and what their current status is, check out the complete list of all ballparks abandoned by major league teams and their minor league affiliates from 1999 through 2009.
People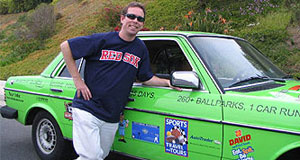 A Ballpark Tour Fueled by Vegetable Oil



215 Days, 260 Ballparks, 1 Car Running on Veggie Oil


Joe Connor is fueled by his dreams. His dreams just happen to be fueled by the vegetable oil he needs to drive his 1984 lime green Mercedes to a different ballpark every day. In that quest, Connor spent seven months - the entire 2006 baseball season - driving a two-decades old automobile to a ballpark near you. His Fuel of Dreams tour covered more than 40,000 miles and took him to 48 states and 260 ballparks, but thanks to 9 sponsors it didn't cost him a dime.
Interviews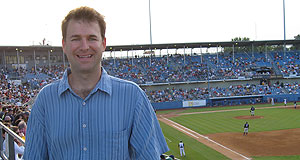 The Talkin' Ballparks Series

Begun in 2009, each interview contains ballpark-specific questions that were asked of team or other official personal about their hometown ballpark.

Mike Melega, Tulsa Drillers
The Drillers' General Manager answers a dozen questions about his team's former on the outskirts of town home, Drillers Stadium, and their new ballpark, ONEOK Field, which is in downtown Tulsa.
Baseball's Most Unique Ballpark Features
Places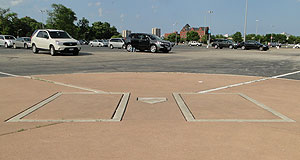 For baseball fans, there are plenty of places to visit besides the modern (and other currently used) ballpark. Sites to see include historical markers and museums that shed insight on our national pastime's past and the ballparks in which the game was once played.
Comiskey Park Tribute

The site where the longtime former home of the Chicago White Sox stood was long ago paved over and became a parking lot. But within that parking lot is the sole tribute to Comiskey Park, as a marble home plate resides on the spot where the real one did for 80 years.
Featured Sections

Top 5 Major League Ballparks

Fans and baseball personnel rank the best Major League ballparks by listing their five favorites. Ten people have shared their insights thus far and 20 ballparks have been listed in their various top fives, none more so than Fenway Park or Wrigley Field (seven apiece), while PNC Park (six) is the most often mentioned of the modern ballpark breed.

Baseball Road Trips

A rehashing of visits to ballparks and baseball destinations, with the journeys covering the shrines of our pastime from the bushes to the bigs, while the games watched span the spectrum of exhibitions to the College World Series.

Ballpark Book Excerpts

In Ballparks of the Deadball Era, Ron Selter writes about Burns Park in Detroit. Stephen Martini shares a chapter from his book about the Chattanooga Lookouts that details the beginnings of Engel Stadium. A half-dozen page samples are available for preview on the Arizona Spring Training Ballpark Guide page.

Ballpark Photo Galleries

If a picture is worth a thousand words then you won't find a more extensive dialogue of the select ballparks that are photographed (and described) in the galleries at Baseball Pilgrimages or on its Facebook page. All leagues - major, minor and independent - are represented, as are former ballparks and those under construction.