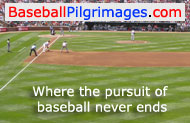 Baseball Pilgrimages
Ballpark Info
Directions
Seating Diagram
Tickets
Phone: 864-240-4500


Field Facts
Outfield Dimensions


LF: 310' CF: 420' RF: 302'

Playing Surface
Tifway 419 bermudagrass

Home Dugout
1st Base


Drive Info
Level: Low A
League: South Atlantic
Affiliate: Boston Red Sox
2017 Drive Schedule
Ballpark Attendance
Year
Total
Average
2016
2015
2014
2013
2012
2011
2010
2009
2008
2007
2006
331,911
346,828
346,187
300,402
347,042
327,558
337,918
335,159
349,116
339,356
330,078
4,810
5,100
5,017
4,768
5,104
4,747
4,969
4,857
5,060
4,991
4,784
* Attendance figures listed are the regular season totals drawn by the Drive at Fluor Field

---

Baseball Pilgrimages
Where the pursuit of baseball never ends.
[Site Map]
Fluor Field


945 South Main Street
Greenville, SC 29601

Opened:


2006

Capacity:


5,700

Elevation:


977'

---

Send this page to a friend
Questions or comments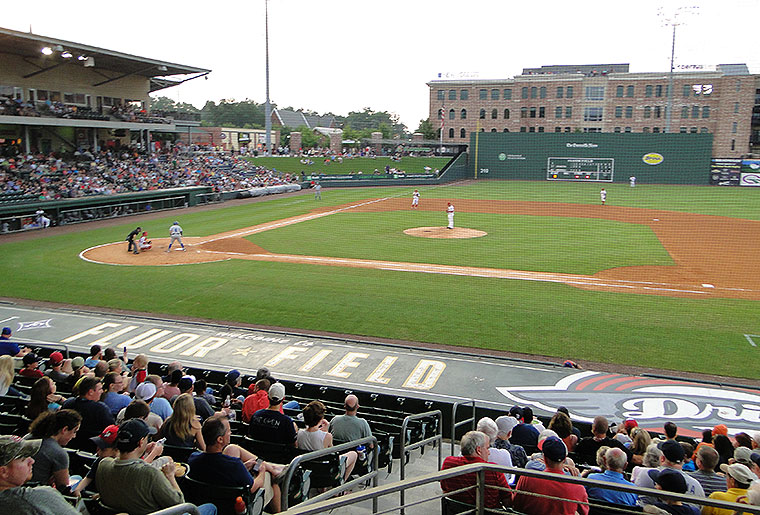 Fluor Field Facts & Figures
Construction cost: $16 million
Financing: Fully funded by Greenville Drive ownership. Although the cost of building the ballpark was privately paid for, $7 million in related infrastructure improvements were publicly funded.
Architect: DLR Group
General contractor: EMJ Corp.
Groundbreaking date: May 28, 2005
Was built on the site of an old lumber yard.
Owned and operated by the Greenville Drive.
Naming rights: On February 26, 2008, it was announced that Fluor Corporation and the Drive had agreed to a deal to call the ballpark Fluor Field at the West End. Financial terms were not announced but the length of the agreement is for 10 years. Fluor has multiple offices in Greenville and is a US-based company specializing in engineering, procurement and construction services for worldwide projects.
Was called West End Field for its first two years (2006-2007). That name was simply based on where the ballpark is located, which is in the West End historic district neighborhood of Greenville.
Has 18 suites. Each has a capacity of 24 people.
The field itself was named the 2012 Professional Baseball Field of the Year by the Sports Turf Managers Association.
Replaced Municipal Stadium (1984-2005) as the home for professional baseball in Greenville. The old stadium is 6 miles from Fluor Field and much of it still stands, although the stadium is now part of an amateur baseball complex named Conestee Park that was created following the departure of pro baseball from the site.



Ballpark Firsts
First game: April 6, 2006; the Greenville Drive beat the Columbus Catfish, 6-1, with 5,700 as the announced attendance. The game was played in 2 hours and 11 minutes after starting at 7:35 p.m.
Ceremonial first pitch: Knox White, Greenville Mayor

Official ballpark firsts (all of which occurred on 4/6/06, unless noted):
| | | | | | |
| --- | --- | --- | --- | --- | --- |
| Pitch | Batter | Hit (home run) | Winning Pitcher | Losing Pitcher | Save (4/8) |
| Phil Seibel | Adam Godwin | Jesus Soto | Hunter Jones | Arismendy Castillo | Francisco Felix |