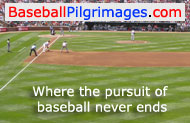 Baseball Pilgrimages
Riverwalk Stadium Info
Directions
Seating Diagram
Tickets
Phone: 334-323-2255
Outfield Dimensions
LF: 314' CF: 400' RF: 333'


Biscuits Info
Level: AA
League: Southern
Affiliate: Tampa Bay Rays
2017 Biscuits Schedule


Travel Info
Nearest Major Airport:
Montgomery Regional (9 miles)

Nearest Pro Ballpark:
Regions Field in Birmingham (89.6 miles)
Stadium Attendance
Year
Total
Rank *
2015
2014
2013
2012
2011
2010
2009
2008
2007
2006
2005
2004
232,466
244,534
258,532
244,976
256,403
269,840
266,818
292,181
311,872
313,795
303,054
322,946
5
5
4
4
4
3
3
3
2
2
2
2
* The Biscuits' total home attendance ranking in the 10-team Southern League

---

Baseball Pilgrimages
Where the pursuit of baseball never ends.
[Site Map]
Riverwalk Stadium Facts, Figures & Firsts
Construction cost: $26 million
Financing: The city is paying for the stadium with proceeds from a 2.5% hotel tax and rent received from the Biscuits. The team's rent is based on revenue generated at the stadium.
Architect: HOK Sport
Construction manager: W.G. Yates & Sons
The decision to build the stadium was approved with a 7-1 vote by the Montgomery City Council on December 3, 2002.
Stands on a 9.5 acre site a short distance from the Alabama River.
Naming rights to the stadium have never been sold as originally intended. Had a sponsor been found, the city and team would've split the fee, which was expected to be $100,000 annually.
Owned by the City of Montgomery.
Has 20 suites, 14 of which are on the third base side of the stadium. The six suites on the first base side are housed within a century-old train depot, which is a key architectural feature of the stadium structure.
Hosted the NCAA Division II Baseball Championship tournament from 2004 through 2007.
First game: The Montgomery Biscuits beat the Huntsville Stars, 8-0, on April 16, 2004 in front of 7,378 fans

Other stadium firsts (all of which occurred on 4/16/04, unless noted):
| | | | | | |
| --- | --- | --- | --- | --- | --- |
| Pitch | Batter | Hit (single) | Home Run (4/18) | Winning Pitcher | Losing Pitcher |
| Jarod Matthews | Tony Gwynn, Jr. | Joey Gathright | Brad Nelson | Jarod Matthews | Tim Bausher |