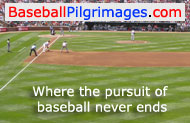 Baseball Pilgrimages
Ballpark Attendance
Year
Total
Average
2016
2015
2014
2013
2012
2011
2010
390,693
417,828
418,147
434,769
438,002
447,520
463,842
5,745
6,055
6,336
6,689
6,257
6,679
6,626
* Attendance figures listed are the regular season totals drawn by the Flying Squirrels at The Diamond

---

Baseball Pilgrimages
Where the pursuit of baseball never ends.
[Site Map]
Richmond Flying Squirrels
The Diamond


3001 North Boulevard
Richmond, VA 23230

Opened:


1985

Capacity:


9,560

Elevation:


203'

---

Send this page to a friend
Questions or comments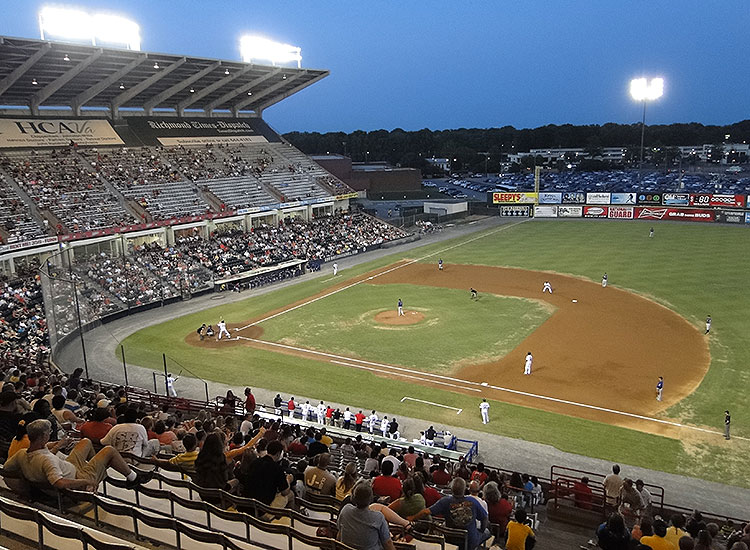 The Diamond Facts, Figures & Firsts
Construction cost: $8 million
Financing: It was a 50/50 split between public and private money. The public half actually came from three governmental bodies, as the city of Richmond joined forces with Henrico and Chesterfield counties to jointly contribute $4 million. Revenue bonds were used as the funding mechanism for the three jurisdictions, which were equal partners in the effort. A fundraising campaign spearheaded by business and civic leaders raised the $4 million private sector portion primarily by finding local companies willing to pay $250,000 apiece to 10-year lease the 12 "super boxes" (lower level suites) that were available.
Architect: Baskervill & Son
General contractor: McDevitt & Street Company
Was built on the exact site of Richmond's previous minor league ballpark, Parker Field. In fact, the new stadium was simply built around the old playing field, which dated to 1954.
Owned by the Richmond Metropolitan Authority, a regional organization established in 1966 that owns and operates a variety of public facilities in Richmond and the adjacent counties of Chesterfield and Henrico.
The name of the stadium was chosen following a public solicitation of suggestions, which were submitted to a local public relations firm (Finnegan & Agee). "The Diamond" was submitted by an anonymous fan in November 1984, and was announced as the choice in December 1984.
Virginia Commonwealth University is The Diamond's longest tenured tenant. The University's baseball team, the Rams, have been playing their home games here since nine days after the stadium opened in 1985. Their original co-tenant, the Richmond Braves, moved to a new ballpark in Lawrenceville, GA following the 2008 season and minor league baseball wasn't played in The Diamond in 2009. That one-year hiatus ended in 2010 with the debut of the Flying Squirrels, a franchise that relocated to Richmond from Norwich, CT, where they had been called the Connecticut Defenders.
First game: April 17, 1985; the Syracuse Chiefs beat the Richmond Braves, 2-1, before an announced crowd of 12,435

Other ballpark firsts (all of which occurred on 4/17/85, unless noted):
| | | | | | | |
| --- | --- | --- | --- | --- | --- | --- |
| Pitch | Batter | Hit (single) | Home Run (4/22) | Winning Pitcher | Losing Pitcher | Save |
| Steve Shields | Mike Sharperson | Glenn Gulliver | Billy Beane | Tom Filer | Steve Shields | Keith Gilliam |