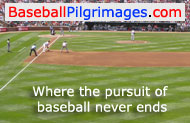 Baseball Pilgrimages
Ballpark Info
Directions
Seating Diagram
Tickets
Phone: 417-863-0395
Outfield Dimensions
LF: 315' CF: 400' RF: 330'


Cardinals Info
Level: AA
League: Texas
Affiliate: St. Louis Cardinals
2017 Schedule


Travel Info
Nearest Major Airport:
Springfield-Branson National
(8.7 miles)

Nearest Pro Ballpark:
Arvest Ballpark in Springdale, AR (142.9 miles)
Ballpark Attendance
Year
Total
Rank *
2014
2013
2012
2011
2010
2009
2008
2007
2006
2005
354,227
338,345
352,674
337,166
357,336
402,618
461,020
460,063
492,372
526,630
4
4
4
4
4
3
3
3
3
2
* The Cardinals' total home attendance ranking in the 8-team Texas League

---

Baseball Pilgrimages
Where the pursuit of baseball never ends.
[Site Map]
Hammons Field Facts, Figures & Firsts
Construction cost: $32 million
Financing: Privately funded by developer John Q. Hammons
Architect: Pellham-Phillips-Hagerman
Construction manager: Killian Construction Co.
Located on the eastern edge of Jordan Valley Park, which includes an amphitheater, arts center and large indoor ice rink.
Owned by and named after John Q. Hammons, who first announced his intentions to build a ballpark in August of 2000.
Although official capacity is listed at 6,750, the ballpark has 7,986 seats and room for many more fans in its general admission berm.
Has 28 suites. On the second level are 25 that are each 14' x 18' in size and have balcony seating for 12 plus a lounge that was made by combining suites 2-4. On the third (press box) level is a party suite and John Q. Hammons' private suite.
Is jointly used by Missouri State University and the Springfield Cardinals and each has separate clubhouses in right field, which is also where a 120" x 120" indoor practice facility was built. The training facility has a full-sized artificial turf infield and room for a dozen batting cages.
First game: Southern Illinois beat Southwest Missouri State, 3-2 in 10 innings, on April 2, 2004 in front of 9,017 fans
First pro game (exhibition): The St. Louis Cardinals beat the Springfield Cardinals, 4-3, on April 2, 2005 in front of 10,409 fans
First pro game (regular season): The Springfield Cardinals beat the Tulsa Drillers, 2-1, on April 12, 2005 in front of 8,831 fans

Pro regular season ballpark firsts (all of which occurred on 4/12/05, unless noted):
| | | | | | | |
| --- | --- | --- | --- | --- | --- | --- |
| Pitch | Batter | Hit (single) | Home Run (4/14) | Winning Pitcher | Losing Pitcher | Save |
| Randy Leek | Jeff Salazar | Shaun Boyd | Papo Bolivar | Randy Leek | Keith Ramsey | Josh Kinney |