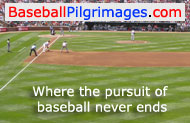 Baseball Pilgrimages
Marlins Park Info
Ballpark Tours
Seating & Pricing
Phone: 305-480-1300
2017 Marlins Schedule
(home games only)


Field Facts
Outfield Dimensions


LF: 344' CF: 418' RF: 335'

Playing Surface
Platinum TE paspalum

Home Dugout
3rd Base


Stadium Staff
PA Announcer:
Dick Sanford

Organist:
Tabitha Wortham

Head Groundskeeper:
Chad Mulholland

Concessionaire:
Levy Restaurants
---

Baseball Pilgrimages
Where the pursuit of baseball never ends.
[Site Map]
Marlins Park


501 NW 16th Avenue
Miami, FL 33125

Opened:


2012

Capacity:


37,442

Elevation:


3'

---

Send this page to a friend
Questions or comments
Marlins Park Facts & Figures
Construction cost: $634 million
Financing: 80.25% public and 19.75% private. The Marlins were the private entity that was responsible for $125.2 million of the cost. Publicly, Miami-Dade County contributed $376.3 million and the City of Miami spent $132.5 million.
Architect: Populous
Construction manager: Hunt/Moss, a joint venture of Hunt Construction Group and Moss & Associates
Construction began on July 1, 2009, although the official groundbreaking ceremony didn't occur until 17 days afterwards (7/18/09).
Was built on the site of the Orange Bowl, the famous football stadium that was demolished in 2008.
Naming rights have yet to be sold, although they are for sale. The name Marlins Park has been used since January 2012, when it became apparent that no naming rights partner would likely be found prior to the ballpark's inaugural season. The team, which will receive all proceeds from any deal, had hoped to find a corporate backer at least a year before the ballpark opened.
Owned by Miami-Dade County.
Achieved LEED Gold Certification, an environmental-friendly accreditation awarded by the U.S. Green Building Council that takes into consideration sustainable construction processes and operations efficiencies. The announcement that Marlins Park had earned Gold-level certification was made on May 17, 2012, while the Council officially recognized the ballpark's status in a ceremony held there on May 25, 2012.
Has a total of 45 suites, which are divided into six classifications: Founders (13), MVP (12), Legends (10), Fiesta (6), Championship (2) and Hall of Fame (2)
Hosted six games in the second round of the 2013 World Baseball Classic. Played from March 12-16, the games drew a total attendance of 154,624 (a 25,771 per-game average) and their results saw the Dominican Republic (3-0) and Puerto Rico (2-2) advance from pool play over Italy (0-2) and Team USA (1-2).
Home to an annual college football bowl game, called the Miami Beach Bowl, which was played for the first time on December 22, 2014. The NCAA-certified bowl is owned and operated by the American Athletic Conference so it will always feature an AAC school. For its football configuration, Marlins Park has a capacity of 34,000 since some right field line sections are closed due to their obstructed views, as the field is laid out from the third base dugout to the right field bullpen.