Most major league ballparks have regularly scheduled public tours available. While some teams offer tours of their ballpark year-round, others do so only for a handful of days in select months.

For details on taking a tour of each ballpark see the tables below, which feature the link to each teamís ballpark tour information page plus the tour's cost and length. Also included is the best phone number to call for more info.

Note that tour lengths are approximate and that regardless of where, tours take place rain or shine. The cost listed is the standard (adult) admission. Discounts are usually available for children and seniors.

Ballparks are listed in alphabetical order by their current name and are grouped by league. To search by team, use the Tours by Team sidebar.



2017 Major League Ballpark Tour Information

(time listed for length is in minutes)
National League Ballpark
Cost
Length
Info
AT&T Park
$22
90
415-972-2400
Tours embark daily throughout the year, although there are 39 blackout dates in 2017.
Busch Stadium
$18
60
314-345-9565
Tours are offered almost daily on a year-round basis (exceptions: home day games & major holidays).
Chase Field
$7
75
602-462-6799
Tours are conducted year-round on Monday-Saturday.
Citi Field
$13
60
718-507-8499
Tours are offered infrequently without a set schedule (dates are found on the Mets' website).
Citizens Bank Park
$10
90
215-218-5360
Tours are offered Monday-Saturday during the season and on Monday, Wednesday & Friday in the offseason. Tickets for a tour must be purchased in advance as there are no day of tour walk-up sales.
Coors Field
$10
70-80
303-762-5437
Tours are available Monday-Saturday during the season.
In the offseason, tours are offered on Monday, Wednesday, Friday & Saturday.
Dodger Stadium
$20
80-90
866-363-4377
Tours are given on most days of each month during the season.
Great American Ball Park
$20
90
513-765-7923
Tours are generally offered daily during the baseball season. A tour ticket also includes admission to the Reds Hall of Fame and Museum, which is adjacent to the ballpark.
Marlins Park
$10
60
305-480-1300
Tours take place on Monday, Wednesday, Friday & Saturday when there is no game or event scheduled.
Miller Park
$12
75
414-902-4586
Tours are given from March 31 through September 30, on about half the days during that span.
Nationals Park
$15
90*
202-640-7369
* Tours last 60-70 minutes on game days and 90 minutes on non-game days.
Petco Park
$15
80
619-795-5000
Tours are offered every day, unless the Padres play an afternoon game.
PNC Park
$10
90
412-325-4700
Besides Sunday, tours are given on the majority of days during the season. In the offseason, tours are only offered on Monday, Friday and the first Saturday of each month.
SunTrust Park
$20
90
404-614-2311
Tours are offered year-round on every day of the week, except for on Sundays in the offseason.
Wrigley Field
$25
75-90
773-388-8270
Except for when a concert is scheduled, tours are offered daily throughout the baseball season.

American League Ballpark
Cost
Length
Info
Angel Stadium
$8
75
714-940-2045
Tours are not given on any day on which the Angels have a home game.
Camden Yards
$9
90
410-547-6234
Except for when the Orioles play a day game, tours are given daily during the regular season.
Comerica Park
$6
90
313-471-2074
Tours are only given in June through September on Tuesdays and Fridays.
Fenway Park
$20
60
617-226-6666
Tours are offered daily and year-round.
Globe Life Park
$15
60
817-273-5099
Tours take place daily during the baseball season and Tuesday-Saturday in the offseason.
Guaranteed Rate Field
Groups only*
312-674-1000
* The White Sox only offer tours to groups of 10 or more with a reservation required.
Kauffman Stadium
$17
90
816-504-4222
The Royals actually offer three different tours, with the enhanced versions costing $30 and $55.
Minute Maid Park
$15
60-90
713-259-8996
The Astros also offer a special "Early Bird Tour" on game days (excluding 1:10 games).
Oakland Coliseum
$20
60-90
510-638-4900
Tours are only given on select non-game days from April through July.
Progressive Field
$10
60
216-420-4487
For 2017, all public tours will take place between a span of May 2-September 2.
Rogers Centre
$16
60
416-341-2771
If requested in advance, group tours (20+ people) are available in French.
Safeco Field
$12
60
206-346-4241
Tours are offered year-round, although none are scheduled for Mondays in the offseason.
Target Field
$17
90
612-659-3877
Tours are held about 20 days per month from April through September then on weekends in October.
Tropicana Field
$10
90
727-825-3406
Tours of the Trop are rare: they are given on just a handful of Tuesdays in 2017.
Yankee Stadium
$20*
60
646-977-8687
* Thanks to the service fee, a tour ticket actually costs $23 when bought online. It's $25 at the box office.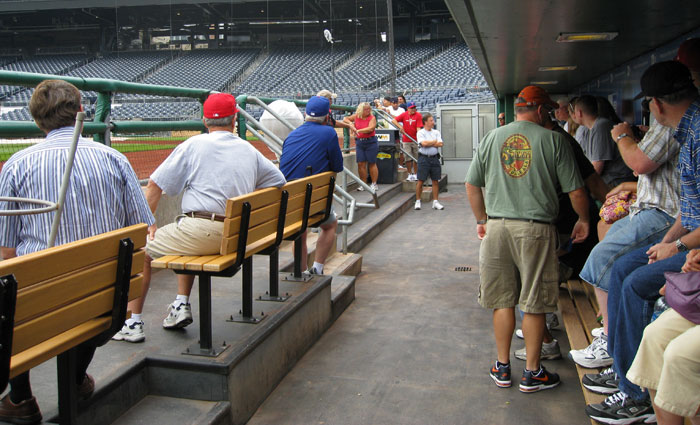 A common stop during a ballpark tour is the dugout. The Pirates' dugout at PNC Park is being explored in the picture above.