Marlins Smartphone Case
The Marlins universal smart phone case is made from genuine baseball leather that is dyed in the team's colors and prominently displays a screen-printed logo on its front in between authentic baseball stitching.

The case has an easy open and shut magnetic flap with a Marlins script logo atop it. A variety of personal electronic devices can fit snugly within the horizontal-shaped case, examples of which include BlackBerrys, PDAs, iPods, iPhones and basic non-flip cell phones.

The 360-degree swivel clip that is securely fastened to the backside of the case enables it to be attached to the belt, shorts, pants, purse, etc. of the wearer.

$19.95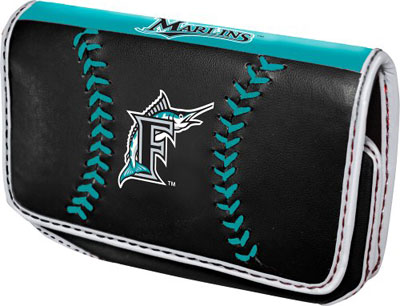 Size: 4½" W x 2¾" H x ½" D
(The interior depth of the case can expand to 0.75" wide)
Weight: 2.3 oz.