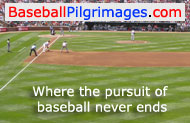 Baseball Pilgrimages
Ballpark Info
Directions
Seating Diagram
Tickets
Phone: 386-257-3172
Outfield Dimensions
LF: 317' CF: 400' RF: 325'


Tortugas Info
Level: A
League: Florida State
Affiliate: Cincinnati Reds
2017 Tortugas Schedule


Daytona Beach Info
Population: 64,421
County: Volusia
Daily Newspaper: The News-Journal

Nearest Airport:
Daytona Beach Int'l (4 miles)

Nearest Pro Ballpark:
Space Coast Stadium in Viera (74.4 miles)
Ballpark Attendance
Year
Total
2014
2013
2012
2011
2010
2009
2008
2007
2006
2005
2004
2003
2002
2001
2000
1999
1998
1997
1996
1995
1994
1993
143,273
146,049
143,131
154,557
150,157
147,921
164,007
146,195
147,677
127,060
110,223
97,362
72,655
105,606
70,042
62,491
74,082
86,704
97,098
90,071
96,756
95,089
---

Ballpark Bibliography
Jean West
The News-Journal


Baseball Pilgrimages
Where the pursuit of baseball never ends.
[Site Map]
The first modern integrated game of professional baseball was officially played on these grounds on St. Patrick's Day in 1946 when an overflow crowd filled the still segregated ballpark for a Sunday afternoon game between the Brooklyn Dodgers and their Triple-A affiliate, the Montreal Royals. Thanks to Jackie Robinson, the game that started at 3 p.m. was anything but a typical meaningless spring training exhibition. Playing for Montreal, Robinson started at second base and went hitless in three at-bats, although he did reach base once via a fielder's choice and then scored one of his team's two runs after stealing second base. Jackie was removed after playing the first five innings of the game that the Dodgers won 7-2.
On the day that Robinson broke baseball's color line, "black sports writers were denied press cards and restricted to the segregated section down the right-field line," reported Daytona Beach's The News-Journal sixty years after the fact. At the time, the mainstream press made only brief mention of what transpired on the field, and none at all about the Jim Crow laws that made Robinson an outcast pretty much everywhere in the state of Florida outside of Daytona Beach's baseball field, which was known then as City Island Ballpark. Both it and Robinson's legacy became intertwined 42 years later, when the ballpark was renamed in honor of the man who wore #42 when he broke the color barrier on a national stage with the Brooklyn Dodgers in 1947.
For Robinson, and countless others since, the road to the majors began on a ball field that now bears his name and is fronted by a bronze statue of him that was dedicated on September 9, 1990. Sculpted by Montreal artist Jules La Salle, it depicts Robinson in his Montreal Royals uniform alongside two young boys, each of them looking up in awe at the man who inspired plenty of it.
- Written by Graham Knight on February 13, 2010
Jackie Robinson Ballpark Facts
Original architect: Fuquay & Gheen, Inc.
Owned by the city of Daytona Beach.
Is located on an island — simply named City Island — in the Halifax River.
Was known as City Island Ballpark until December 1, 1988, at which time the Daytona Beach City Commission unanimously approved an ordinance to rename the ballpark after Jackie Robinson, who made his organized baseball debut here on March 17, 1946 during a spring training game as a member of the Montreal Royals.
Was officially added to the National Register of Historic Places on October 22, 1998.
Has been damaged thrice by hurricanes: Donna (1960), Floyd (1999) and Charley (2004).
Also currently used by the Bethune-Cookman University baseball team.
Spring training tenants: St. Louis Cardinals (1937), Brooklyn Dodgers (1946), Baltimore Orioles (1955), Montreal Expos (1973-1980)
Minor league tenants: Daytona Beach Islanders (1936-1941, 1946-1966, 1977, 1985-1986), Daytona Beach Dodgers (1968-1973), Daytona Beach Astros (1978-1984), Daytona Beach Admirals (1987), Daytona Cubs (1993-2014), Daytona Tortugas (present)