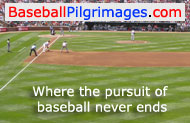 Baseball Pilgrimages
Ballpark Info
Directions
Tickets
Phone: 972-504-9383


Field Facts
Outfield Dimensions


LF: 330' CF: 397' RF: 330'

Playing Surface
Matrix Turf

Home Dugout
1st Base


AirHogs Info
Level: Independent
League: American Association
2017 AirHogs Schedule
Ballpark Attendance
Year
Total
Average
2016
2015
2014
2013
2012
2011
2010
2009
2008
26,561
52,072
60,747
111,195
108,236
117,861
124,539
141,132
143,627
1,107
1,108
1,321
2,317
2,303
2,405
2,707
3,003
3,056
* Attendance figures listed are the regular season totals drawn by the AirHogs at QuikTrip Park
Travel Info
Nearest Major Airport:
Dallas Fort Worth International (12.4 miles)

Nearest Pro Ballparks:
Globe Life Park in Arlington (6.7 miles)

Dr Pepper Ballpark in Frisco (32.5 miles)
---

Baseball Pilgrimages
Where the pursuit of baseball never ends.
[Site Map]
QuikTrip Park Facts, Figures & Firsts
Construction cost: $20 million
Financing: Publicly financed through a 1/8-cent sales tax proposition that was approved by Grand Prairie residents on May 12, 2007
Architect: Crafton, Tull, Sparks (Tulsa, OK)
Construction manager: Hill and Wilkinson (Dallas, TX)
Construction began on July 5, 2007.
Located in an entertainment complex that includes Lone Star Park, a horse-racing track that opened in 1997, and Verizon Theatre, a 6,350-seat venue that hosts mostly concerts and opened in 2002.
Naming rights: On April 15, 2008, it was announced that Tulsa-based QuikTrip, a gasoline station and convenience store chain, signed a 10-year deal to officially name the ballpark "QuikTrip Park at Grand Prairie." Financial terms of the agreement have not been disclosed.
Owned by the City of Grand Prairie, and specifically the Grand Prairie Sports Facilities Development Corporation, which is a 7-member city-appointed board.
For its first five baseball seasons, QuikTrip Park had a natural grass field. In February 2013, installation of a synthetic turf field was completed at a cost of $1.1 million. The artificial field was made and installed by Hellas Sports Construction, an Austin, Texas-based company that also provided the playing surface for the Dallas Cowboys' stadium in nearby Arlington. Matrix Turf Baseball Hi-Slide is the official name of what Hellas laid down in Grand Prairie.
Has all chairback (stadium-style) seating. All seats have cup holders and each is painted red to match the AirHogs' primary color. Lush green grass seating is available down each outfield line.
The stadium's second story has 13 suites and the entire level's capacity, which includes outdoor balcony seats for suite holders, is 350.
Featured amenities on ballpark grounds include a 6,000-square-foot sports bar and restaurant in left field and the 17,000-square-foot Wide World of Parks, which is a kids zone play area with a little bit of everything parallel to the right field line concourse. The bar & grill and playground are open year-round. The swimming pool in right-center field, which ranges in depth from 3' 8" to 4' 3" and juts out onto the warning track, is only open on game days when reserved by groups. The pool and its accompanying deck have a capacity of 100 and those renting the area have access to private bathrooms and a snack bar whose food and drink is included as part of the rental price.
First game: The Wichita Wingnuts beat the Grand Prairie AirHogs, 4-2, on May 16, 2008 with 5,445 as the announced attendance

Official ballpark firsts (all of which occurred on 5/16/08):
| | | | | | | |
| --- | --- | --- | --- | --- | --- | --- |
| Pitch | Batter | RBI | Home Run | Winning Pitcher | Losing Pitcher | Save |
| Ben Brockman | Kevin Hooper | Brenan Herrera | Aaron Garza | Gustavo Mata | Ben Brockman | Byron Embry |