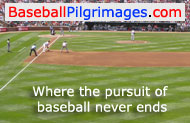 Baseball Pilgrimages
Ballpark Info
Directions
Seating Diagram
Tickets
Phone: 731-988-5299
Outfield Dimensions
LF: 330' CF: 390' RF: 330'


Generals Info
Level: AA
League: Southern
Affiliate: Arizona Diamondbacks
2017 Generals Schedule


Travel Info
Nearest Major Airport:
Memphis International
(89 miles)

Nearest Pro Ballpark:
AutoZone Park in Memphis (89.6 miles)
Ballpark Attendance
Year
Total
Rank *
2016
2015
2014
2013
2012
2011
2010
2009
2008
2007
2006
2005
2004
2003
2002
2001
2000
1999
1998
126,116
136,918
135,248
119,202
133,352
106,689
118,503
129,778
140,445
113,351
95,486
105,893
159,308
197,226
224,698
244,252
303,355
302,203
313,775
9
9
8
10
8
9
9
9
10
10
10
10
9
8
5
5
2
2
1
* The Diamond Jaxx/Generals total home attendance ranking in the 10-team Southern League

---

Baseball Pilgrimages
Where the pursuit of baseball never ends.
[Site Map]
The Ballpark at Jackson Facts, Figures & Firsts
Construction cost: $8 million
Financing: The City of Jackson issued a general obligation bond
Architect: Heery International
Construction manager: Henson Construction Services
Was called Pringles Park from the time it opened through the 2012 season, while the team that played there was called the West Tenn Diamond Jaxx through the 2010 season, after which they changed their name to Jackson Generals.
Original naming rights: Proctor & Gamble, makers of Pringles potato chips, signed a 15-year, $1.2 million deal on December 23, 1997 that was the first ever naming rights agreement for a Double-A ballpark. Pringles have been made in Jackson since the 1970s.
Owned by the City of Jackson.
The original lease between the city and team, which coincided with the length of the original naming rights agreement, was for 15 years. It gave the right for Jackson's Southern League team to play rent-free at the stadium, although the city received a surcharge on all tickets sold (excluding season tickets) and 75% of the money received for the stadium's naming rights.
Has 8 suites, with four of them on each side of the press box.
Since 2010, has been the host site for the Ohio Valley Conference (NCAA Division I) baseball tournament. The OVC Baseball Championship will continue to be held at Jackson's ballpark through at least 2016, as that's when the current deal expires. Jacksonville State won the '10 tourney while Austin Peay has won the tournament title, and the corresponding automatic bid into the 64-team NCAA baseball tournament field, in 2011-13.
Located next to the West Tennessee Healthcare Sportsplex, a 17-field youth baseball and softball complex that opened on August 25, 2006.
First game: April 16, 1998; the West Tenn Diamond Jaxx beat the Jacksonville Suns, 5-4, before an announced crowd of 6,054

Official ballpark firsts (all of which occurred on 4/16/98, unless noted):
| | | | | | | |
| --- | --- | --- | --- | --- | --- | --- |
| Pitch | Batter | Hit (single) | Home Run (4/19) | Winning Pitcher | Losing Pitcher | Save (4/17) |
| Al Garcia | Dave Roberts | Dave Roberts | Ricky Freeman | Richie Barker | Willis Roberts | Richie Barker |