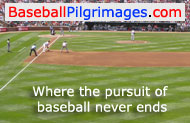 Baseball Pilgrimages
Ballpark Attendance
Year
Total
Average
2016
2015
2014
2013
2012
2011
2010
2009
2008
2007
2006
2005
2004
2003
2002
2001
2000
324,581
278,579
381,429
498,362
493,706
493,528
462,041
474,764
569,172
633,129
692,426
696,083
730,565
749,446
794,550
887,976
859,823
4,704
4,037
5,693
7,223
6,954
7,050
6,508
6,982
8,249
8,793
9,752
10,088
10,436
10,409
11,035
12,507
11,942
* Attendance figures listed are the regular season totals drawn by the Memphis Redbirds at AutoZone Park
Travel Info
Nearest Major Airport:
Memphis International
(9.3 miles)

Nearest Pro Ballpark:
The Ballpark at Jackson in Jackson, TN (89.6 miles)
---

Baseball Pilgrimages
Where the pursuit of baseball never ends.
[Site Map]
AutoZone Park


200 Union Avenue
Memphis, TN 38103

Opened:


2000

Capacity:


10,000

Elevation:


243'

---

Send this page to a friend
Questions or comments
AutoZone Park Facts, Figures & Firsts
Construction cost: $80.5 million
Financing: The Memphis Redbirds privately financed construction of the ballpark ($46 million) and the renovation of the Moore Building (now called the Toyota Center) next to it through the issuance of $72 million in tax-exempt bonds by the Center City Revenue Finance Corp.
Architects: Looney Ricks Kiss (lead) and HOK Sport (consultant)
Construction manager: Beers-Inman, a joint venture between Beers Construction Co. and Inman Construction Co.
Naming rights: Memphis-based AutoZone paid $4.3 million for 25 years, which averages out to $188,000 annually through 2024
Owned by the Memphis Redbirds Baseball Foundation, the non-profit organization that also owns the team.
First game: The Memphis Redbirds beat the St. Louis Cardinals 10-6 on April 1, 2000 in front of a sellout crowd of 15,000
Hosted Major League Baseball's inaugural Civil Rights Game on March 31, 2007. The St. Louis Cardinals won the game, 5-1, over the Cleveland Indians before a crowd of 12,815.
Has 48 suites. A sizable berm in left field, called the TruGreen Bluff, can accommodate close to 2,000 fans. Additionally, a pair of club level party decks can each hold 175 people while a picnic pavilion in right field has a capacity of 500.