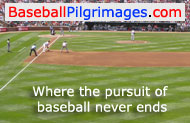 Baseball Pilgrimages
Ballpark Attendance
Year
Total
Rank *
2015
2014
2013
2012
2011
2010
2009
2008
2007
337,566
326,179
293,749
308,109
300,594
326,066
346,635
377,997
372,475
4
5
8
6
7
5
4
4
4
* The Travelers' total home attendance ranking in the 8-team Texas League
Travel Info
Nearest Major Airport:
Little Rock National
(7.7 miles)

Nearest Pro Ballpark:
AutoZone Park in Memphis, TN (134.9 miles)
---

Baseball Pilgrimages
Where the pursuit of baseball never ends.
[Site Map]
Dickey-Stephens Park Facts, Figures & Firsts
Construction cost: $40.4 million
Financing: The majority of the ballpark's cost - about 83% - was paid for by the public. On August 9, 2005, voters of North Little Rock approved, at a 54.3% rate, a temporary 1% sales tax increase that funded $28 million of the cost from the two years the tax was collected. Another $5.6 million was to be raised from ballpark revenue. On the private side of the ledger, Warren Stephens made a financial contribution of $440,494 and a land donation valued at $6.3 million. Also, the North Little Rock City Beautiful Commission donated $15,000.
Architect: HKS Architects
Construction manager: East-Harding/Hensel Phelps Construction
Groundbreaking date: November 30, 2005
Ballpark construction began on January 26, 2006 and was completed on March 27, 2007, a span of 426 days.
Built on 11.6 acres of land alongside the Broadway Bridge that was donated by Warren Stephens, the CEO of Stephens Inc., a Little Rock-based private investment bank.
Is 1.8 miles northeast of the State Capitol in Little Rock.
Named for two sets of deceased local Arkansas brothers who earned fame and fortune in athletics and business. The athletes were Bill and George "Skeeter" Dickey. Both were catchers and Bill was inducted into the Hall of Fame in 1954. The businessmen were Jack and W.R. "Witt" Stephens. Witt founded Stephens Inc. in 1933 and Jack was CEO of the company from 1956-1986.
Owned by the City of North Little Rock and operated by the Arkansas Travelers.
Has 5,288 fixed seats and 24 suites.
First game: The Frisco RoughRiders beat the Arkansas Travelers, 6-5, on April 12, 2007 in front of 7,943 fans

Other ballpark firsts (all of which occurred on 4/12/07):
| | | | | | | |
| --- | --- | --- | --- | --- | --- | --- |
| Pitch | Batter | Hit (single) | Home Run | Winning Pitcher | Losing Pitcher | Save |
| Daniel Davidson | Todd Donovan | Greg Porter | Curtis Pride | Matt Farnum | Bill Edwards | Randy Williams |