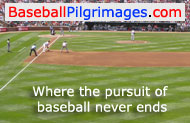 Baseball Pilgrimages
Dell Diamond Info
Directions
Seating Diagram
Tickets
Phone: 512-255-2255
Outfield Dimensions
LF: 330' CF: 400' RF: 330'


Express Info
Level: AAA
League: Pacific Coast
Affiliate: Texas Rangers
2017 Express Schedule


Travel Info
Nearest Major Airport:
Austin-Bergstrom International
(32.3 miles)

Nearest Pro Ballpark:
Wolff Stadium in San Antonio (109.5 miles)
Ballpark Attendance
Year
Total
Rank *
2011
2010
2009
2008
2007
2006
2005
618,261
596,965
626,899
668,623
662,595
677,706
700,277
1
2
2
2
2
3
2
* The Express' total attendance ranking in the 16-team Pacific Coast League

---

Baseball Pilgrimages
Where the pursuit of baseball never ends.
[Site Map]
| | |
| --- | --- |
| Round Rock Express | Triple-A Affiliate of the Rangers |
The Dell Diamond Facts, Figures & Firsts
Construction cost: $25 million
Financing: The City of Round Rock contributed $8.4 million from revenue bonds backed by their hotel-motel tax while Ryan-Sanders Baseball, the owners of the Round Rock Express, paid for the remainder of the stadium's construction cost.
Architect: HKS
Construction manager: Hensel Phelps
Was built in an 85-acre former cornfield on the eastern edge of Round Rock city limits.
Naming rights: Round Rock-based Dell Computer Corporation signed a 15-year, $2.5 million deal in January of 2000
Owned by the City of Round Rock.
Has 8,814 fixed seats and 30 suites. The outfield spanning berm has a capacity of approximately 3,000.
First game: The El Paso Diablos beat the Round Rock Express, 4-1, on April 16, 2000 in front of 10,699 fans

Other ballpark firsts (all of which occurred on 4/16/00):
| | | | | | |
| --- | --- | --- | --- | --- | --- |
| Pitch | Batter | Hit (home run) | Winning Pitcher | Losing Pitcher | Save |
| Eric Ireland | Alex Cintron | Keith Ginter | Brian Scott | Eric Ireland | Geraldo Guzman |