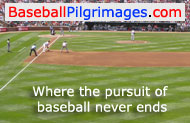 Baseball Pilgrimages
Ballpark Attendance
Year
Total
Rank *
2014
2013
2012
2011
2010
2009
2008
2007
2006
2005
294,539
294,346
301,942
294,176
289,113
300,669
300,267
277,150
277,035
272,922
8
7
7
8
7
7
6
6
5
5
* The Missions' total home attendance ranking in the 8-team Texas League
Travel Info
Nearest Major Airport:
San Antonio International
(17.5 miles)

Nearest Pro Ballpark:
The Dell Diamond in Round Rock (109.5 miles)
---

Baseball Pilgrimages
Where the pursuit of baseball never ends.
[Site Map]
Wolff Stadium Facts, Figures & Firsts
Construction cost: $10 million
Architect: Ford, Powell & Carson of San Antonio; HOK Sport served as a sports facility consultant
Construction manager: Lyda, Inc. (Phase I) and Bartlett Cocke, Jr. Construction Co. (Phase II)
Is about 10 miles west of The Alamo and downtown San Antonio.
Was called San Antonio Municipal Stadium from its opening until May 25, 1995, when it was renamed in honor of Nelson Wolff, the Mayor of San Antonio from 1991-1995 who was the driving force behind getting the stadium built. The stadium's official name is Nelson W. Wolff Municipal Stadium.
Would have been named Miller Stadium but the San Antonio City Council refused an offer by Miller Brewing, which was $1 million for 10 years of naming rights, by a 10-1 vote on March 31, 1994.
Owned by the City of San Antonio and operated by the San Antonio Missions.
Has 6,200 fixed seats and 14 suites. The berm in left field can hold approximately 3,000 fans so the stadium's true capacity is in excess of 9,000, not the official number of 6,200 that is used.
First game: The El Paso Diablos beat the San Antonio Missions, 1-0, on April 18, 1994 in front of 9,336 fans

Other ballpark firsts (all of which occurred on 4/18/94, unless noted):
| | | | | | | |
| --- | --- | --- | --- | --- | --- | --- |
| Pitch | Batter | Hit (single) | Home Run (4/19) | Winning Pitcher | Losing Pitcher | Save |
| Ismael Valdez | Kevin Riggs | Garey Ingram | Chris Demetral | Steve Peck | Ismael Valdez | Doug Henry |